Cultural Resources & Archeology: Fall, 2009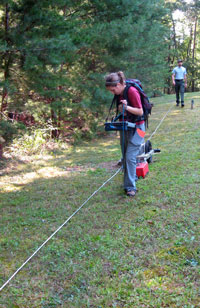 NPS photo.
Sensing graves underground
Park archeologists and GIS experts are using Ground Penetrating Radar (GPR) to discover the location of unmarked graves. It is important to understand where these graves are located, because many descendents of settlers who lived here before the Park was established still wish to be buried in these mountains. To protect existing graves when new sites are opened, it's very important to map them all using precise technology. The GPR "sees" through the layers of soil using radar, and while it doesn't give details about what's underground exactly, it tells scientists where soil has been disturbed. This fall, several sites of potential unmarked graves were subjected to subsurface scrutiny, including the grounds around Cades Cove Primitive Baptist Church, the former location of the Cades Cove Missionary Baptist Church, and two other potential cemetery locations.
Return to Resource Roundup: Fall, 2009.