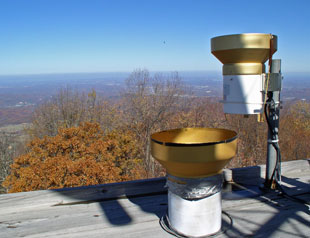 NPS photo.
States & parks working together
In January, President Obama signed a memorandum requiring the Environmental Protection Agency (EPA) to allow states to set more stringent auto emission and fuel efficiency standards. This memorandum will allow states to require automakers to produce trucks and cars that get better mileage than what is required under the current national standard set by EPA.

Almost a year later, national parks that cross over two states are collaborating with local governments to ensure new laws match protections set up in Class 1 airsheds, which include large parks. The new proposed National Emission Standard Act could possibly help park units reduce air pollution in their boundaries and meet the National Ambient Air Quality Standards (NAAQS) of the Clean Air Act.
Changing ozone standards?
In late September, the EPA announced that it was reconsidering the ozone National Ambient Air Quality Standards (NAAQS) published last year. EPA plans will propose a revised standard in December 2009 and publish a final rule by August 2010. The National Park Service sent a letter to EPA in spring 2009 encouraging them to reconsider the NAAQS and adopt a new, more stringent standard based on the record.

The park monitors ozone from May to November, when high temperatures and sunny days exacerbate the problem.
Return to Resource Roundup: Fall, 2009.