Resource Roundup: Fall, 2009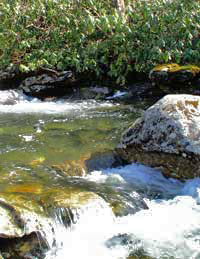 NPS photo.
Click on each Resource Management Program to learn about their current projects.
States & parks working together
Changing ozone standards?

Sensing graves underground

Cades Cove burning
Communicating the value of prescribed fire

Fish on the move
Toxic fish in southeast streams?

Ginseng seized & restored
Tapoco and Tallassee discoveries
Invertebrate inventories
Trees over the years
Forest plots
New fungi!
Ash, sycamore, & butternut mapping
Reorganizing Inventory & Monitoring

A new way to nab non-native invasive plants
Faster-acting help for healthier hemlocks
Seed harvesting
Are they here yet?
Exotics control
Pesticide persistence
Restoring Chilogate

Hungry or happy bears in the year to come?
Nuisance bears
Spray, don't shoot
Hogs
In a rut

Winging it: monarch tagging
Return to the Dispatches from the Field: Issue 5 main page.