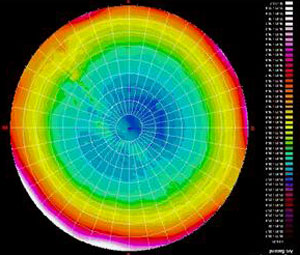 NPS image.
How dark are the Smokies? The Smokies are fairly dark, probably because the nearest large cities are 40 to 100 miles away. The Smokies had similar darkness measures as Bandelier National Monument in New Mexico, Assateague Island in Maryland/Virginia, and Rocky Mountain National Park in Colorado.
In the Smokies, we can see bright (shown in white) light coming from nearby Knoxville, Maryville, Pigeon Forge and development in Sevier County, and from more distant Waynesville and Asheville in North Carolina, and Atlanta about 140 miles (as the crow flies, or, in this case, as light shines) in Georgia. This light can have complex changes on the animals—and people—that as we know them in the Great Smoky Mountains.
Go to page 3: How do we reduce light pollution? to find out more.