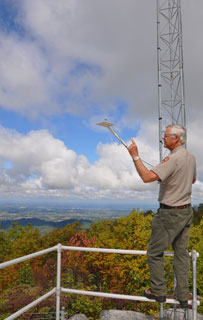 NPS photo.
Look Rock - holds the park's IMPROVE monitoring station, in addition to many other air quality monitoring instruments. IMPROVE stands for Interagency Monitoring of PROtected Visual Environments, and measures both the amount and chemical composition of particulate matter. After knowing these measurements, the park can determine how much pollution particles scatter light, a major determinant of the haze.
The Look Rock station also collects measurements of ozone, sulfur dioxide, sulfate, carbon monoxide, nitrogen oxide, nitrogen dioxide, wind speed & direction, temperature, humidity, precipitation, solar radiation, continuous PM 2.5, and black carbon.
See the live WebCam view from Look Rock.