Applying air quality results for cleaner air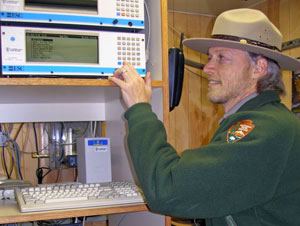 NPS photo.
The Air Quality Act of 1967 was only the first of many legal steps to protect clean air. In the decades that have followed, many federal and state laws, as well as the knowledge gained from park monitoring and research, have led to cleaner air:
1970s
Clean Air Act, and an amendment giving large parks "Class 1" special protection
High blood lead levels in 88% of U.S. children
Phase-out of leaded gasoline
1980s
Smokies Air Quality program begins
Look Rock & Elkmont air monitoring stations installed

IMPROVE program begins to monitor disappearing views due to haze in 156 national parks

Cove Mountain air quality monitoring station built, followed by Clingmans Dome & Noland Divide

Integrated Forest Study to link air pollution and vegetation damage

IMPROVE sites established in 20 national parks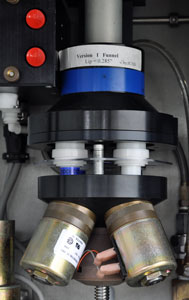 NPS photo.
1980s-90s
Large-scale study of ground level ozone injuries to plants conducted by NPS & Environmental Protection Agency (EPA)
1990s
Amendments to Clean Air Act focus on sulfur & nitrogen pollution: goals include reducing acid rain & reducing future emissions

Southern Appalachian Mountains Initiative: regional plan to improve air quality

Percent of U.S. children with high blood lead levels drops to 4%

Regional Haze Rule announced to improve visibility on haziest days & ensure no additional hazy days occur in Class 1 areas (including large national parks)
2000s
Reduced carbon monoxide, sulfur dioxide, lead, & particulate matter in air

Clean Smokestacks Act signed in North Carolina to cut power plant emissions

CAIR: Clean Air Interstate Rule caps sulfur dioxide (SO2) and nitrogen oxides (NOX) in eastern U.S.

State of North Carolina sues EPA for not enough protection/enforcement in CAIR

EPA begins drafting new rule while leaving CAIR in place for the time being