Inventory & Monitoring: June-July, 2009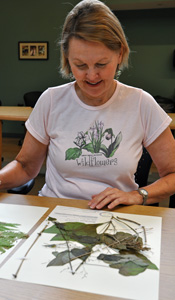 NPS photo.
Preserving plants for posterity
Janie Bitner, a volunteer-in-parks, has been working at the Twin Creeks Science Center since January adding native wildflowers to the archives in the Great Smoky Mountains' natural history collection. The park had a huge backlog of collected plants from a three-year collection and study by the Illinois Natural History Survey. Janie has moved them from their drawers to permanent mounted displays that include their name, location of collection, a brief history, and the collectors. Janie lays each plant onto a large sheet of archival paper and uses special tape to affix the stem, flowers, and roots to the sheet. If there are any seeds, she puts them into a small envelope that stays catalogued with each plant. Each plant is also listed by its genus and species name in the ATBI (All Taxa Biodiversity Index) database, which will allow people to find each specimen easily.

Janie says she is very happy to be doing this work for the park. She majored in natural science and botany at the University of Tennessee, and through volunteering can apply that knowledge and refresh her wildflower identification skills. Janie is one of many volunteers in the Smokies whose work is invaluable to the daily and long-term functioning of the park.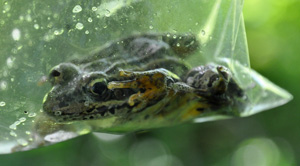 NPS photo.
A checkup for Smoky Mountain wetlands
Jamie Barichivich and other researchers from the U.S. Geological Survey (USGS) tested amphibians and the pond water in which they live for two forms of a fatal amphibian disease: Batrachochytrium dendrobatidis. The disease comes in two forms: Bd, which animals can carry without showing symptoms, and chytrid fungus, which causes deformities and abnormal behavior, such as swimming at the water's surface at midday. Other researchers reported seeing possible signs of the fungus, so the USGS researchers took swabs of the "slime" from salamander and frog toes and bottles of pond water to take back to the lab for testing.

Worldwide, Bd and chytrid fungus are responsible for massive amphibian die-offs. The fungus can kill 50 to 80 percent of a population once it sets in. Monitoring the Smokies' amphibian populations are a matter of biosecurity, according to Barichivich. Watch for a more detailed profile in an upcoming issue of Dispatches from the Field.
Scintillating slime molds
While things called "slime molds" might seem unappealing, they are important organisms in the Smokies that live in many different environments. In October 2000 and November 2003 researchers Shadwick, Stephenson, and Spiegel from the University of Arkansas took samples of fallen leaves, slices of bark from live trees, and pieces of old, fallen logs from different areas in the Park. There are three types of slime molds: protostelids (the most rare, with fewer than 100 species), they plasmodial molds (very common, and what you sometimes see as yellow/orange mold on wood chips), and common cellular slime molds. The research team had been conducting an inventory of all three of the slime mold types around the globe. In the Smokies, they found unusual results in the protostelid type, the rarest one.

In the lab, they broke the samples into tiny pieces and cultured each in a petri dish. The researchers identified 26 species that grew in the cultures, and found five species of prostelids that they believe are new to science. This is the highest species richness of the prostelid type of slime mold described in a temperate area such the Smokies. Before this, scientists thought that only tropical areas such as Hawaii, with 32 prostelid slime mold species, and Puerto Rico, with 25 species, were such rich habitats. This is because generally we find fewer species of prostelid slime molds as we move farther north. In Alaska, for example, researchers only found six species after extensive sampling. Finding as many species here as in the wet tropical forests of Puerto Rico means that the Smokies are an ideal place for further research on this type of slime molds.

This research is exciting because slime molds do important work in the soil and bark layers on the forest floor: by processing nutrients in bacteria, they make them available to beetles that feed on the slime molds.
High elevation rare plants
In July, botanist Janet Rock, U.S. Forest Service employees, and the botanist from the Blue Ridge Parkway are conducting high elevation plant surveys to confirm the distribution of a rare species. The Geumradiatum, or Spreading Avens, is a Federally Endangered plant in the rose family that only occurs on vertical cliff ledges near Mt. LeConte. The botanists rappel to the cliff faces to assess the plant's condition and extent, and interns from the Student Conservation Association use a GPS (Global Positioning System) unit to record the exact location of the plants. The condition, distribution, and exact locations will add valuable information to the ATBI (All Taxa Biodiversity Index) database.
Encouraging more climate change research
During a recent Natural Resources Advisory Group meeting, National Park Service resource managers discovered that although climate change research continues to increase, we need even more attention to it and its implications for the southeastern United States. In a briefing, managers wrote that "Southeast Region parks…particularly coastal parks…are highly vulnerable to the effects of climate change. The projected level of sea level rise continues to increase, jeopardizing our cultural resources, park infrastructure, and the ecological composition of our lands and waters."

Managers are particularly concerned because in reviewing titles and topics of recent funding requests, only one of 81 mentioned "climate change," and only six mentioned "sea level rise." They say they "feel certain this does not reflect the needs for assistance for our parks in this area."
Bee city
In response to a visitor's report of a "city of bees," law enforcement rangers went to a historic farm site along the Porter's Creek trail, and saw burrows covering an area 40 by 5 feet. At the time, rain splashing into the burrow entrances made the bees active and appear to rush out of the holes angrily. Park scientists Adriean Mayor, Glenn Taylor, and Kris Johnson identified the bees as Anthophora abrupta, or miner bee, an important pollinator that does not sting. They build bee "cities" in the ground, and fly slowly over them, their bodies heavy with pollen. These bees are not normally aggressive, although it could appear they are flying right for you when it's raining. The bees are only active until mid-July, so are likely already gone.

Click to read more about these miner bees.
Return to Resource Roundup: June-July, 2009.