Cultural Resources & Archeology: June-July, 2009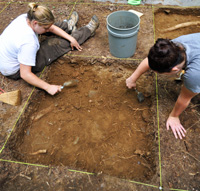 NPS photo.
Surveying spots for construction
Archeologists and archeology techs, including interns from the Student Conservation Association, also surveyed a site in the Cataloochee valley on the North Carolina side of the Park. They dug the survey plots in a grid pattern to find any cultural artifacts at a site where the Park plans to build a new vault toilet. Much of the archeological work in the Park deals with compliance issues such as this: when the Park needs to build a road, building, or trail, archeologists go through first and carefully scrape away layers of earth to reveal any pot sherds (what archeologists call small broken pieces of pottery), arrowhead flakes, or other remnants of human habitation at that site. At this spot in Cataloochee, archeologists found small stone flakes that fall off when people chip arrowheads. However, because the site bottomed out on river rocks after only about 6 inches and contained only a few of these flakes, they concluded that these signs of human habitation were from somewhere else and had washed into this area.
Weather stations
In early June, University of North Carolina-Asheville professor Dr. Doug Miller and two archeologists, Erik Kreusch and Heath Bailey, backpacked over the mountain to potential weather station locations on high slopes overlooking the Cataloochee valley. The goal: to ensure that the sites chosen were not also archeological sites where artifacts, tools, or remains of housing could tell us something about early inhabitants of the mountains. The weather stations are part of a larger project to measure precipitation at different spots high in the mountains, and compare the measurements to predicted rainfall amounts. Usually, weather forecasts give very local forecasts, and scientists want to improve the predictions in the mountains. This will also let them know how much water enters different watersheds and help scientists understand seasonal variations in streamflow and long-term water level changes.
Return to Resource Roundup: June-July, 2009.