Meet the Managers: Fisheries Management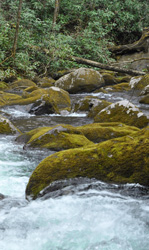 NPS photo.
Over 2,100 miles of streams thread their way through the Great Smoky Mountains. In each mile lives a diverse community of native fish, amphibians, insects, and larvae, some of which are found only in the Southern Appalachians.
Besides things we hope to find in our water, however, there are also many things that threaten Smokies' streams: chemical contaminants, metals leached from rocks and soil, diseases, and non-native plants and animals. To tackle these issues, Park fisheries managers and university researchers monitor water quality, fish populations, and watersheds to better understand the dynamics of water running through diverse ecosystems.
The Park uses this science information to make rules about fishing, restore populations of native and endangered fish, and even influence national pollution laws. The Park also uses this information to educate the public and visitors about how they can help keep Smokies streams healthy.
Read about fisheries and water quality issues:
Return to Dispatches from the Field: Issue 4 main page.