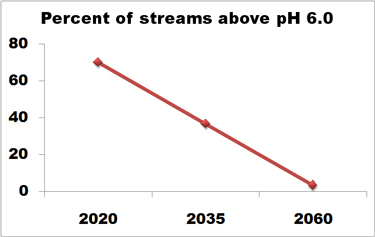 NPS graphic.
What's the future for aquatic plants and animals?
We've already seen brook trout disappear from streams where they were common just 15 years ago as the pH drops below 6.0 and flushes more toxic aluminum into the water. With continued drops in pH, scientists think that brook trout may be gone from the Park entirely in 25-50 years. By 2070 all of the Park's streams could have a pH less than 4.0, a level that is unlivable for most aquatic animals here today.
But it's not all doom and gloom. There is hope to alter these trends by reducing air pollution so the predictions never come true. Through a combination of individual, community, and legal actions, we can change the way we live and, by doing so, improve water quality. The most recent check-up, from the 2008 Annual Water Quality Report, says that we can even be cautiously optimistic about at least some of the results:
pH range across 43 sample sites in Park = 4.8-7.4
Average pH = 6.3 (up from 17-yr average)
Average pH of rain = 5.64 (up from 17-yr average)
Average pH of throughfall (rain through trees) = 4.7 (up from 4.2, the 17-yr average)
Trends in sulfate & nitrate deposition = less acid is falling, due to long-term drought (less acid precipitation) and/or emissions reductions from power plant scrubbers
We hope to continue seeing good news for Park streams. Find out more on page 3: reversing trends through research and action.