Taking the pulse of Smoky Mountain streams
NPS photo.
Why monitor the water?
Every living thing in the Smokies depends on water. Poor water quality—due to contaminants, invasive species, increased temperature, and more—not only affects the stream environment, but forests, soils, and animals outside the water as well. When water quality declines, we can lose animals and plants, and with them, critical links in the Park's ecosystem.
To understand water quality, we have to look to the source of potential pollutants: the air. "Air and water quality monitoring are like taking the pulse of the park," said University of Tennessee-Knoxville professor John Schwartz. "We have to have continuous monitoring," he explained, to "answer critical management questions for natural resource protection." One question deals with the impacts of acid contaminants (primarily sulfates and nitrates coming from air pollution) on streams and the larger ecosystem. We want to know how acidic the streams are, how fast they're becoming acidic, and where in the park this stream acidification is the worst. In addition, Steve Moore, the Supervisory Fisheries Biologist at the Park with whom Dr. Schwartz conducts research, notes that we have lost native brook trout from six watersheds in which they used to be common. We don't understand why the fish are disappearing in some watersheds but not others. The fish's disappearance has driven much of the water quality research at the University of Tennessee.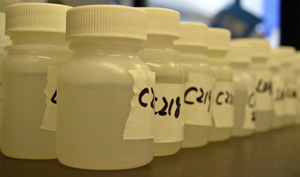 NPS photo.
Dr. Schwartz and his predecessor Dr. Bruce Robinson, along with many graduate students at the University of Tennessee, have been taking the pulse of the Smokies' streams since 1991. They and volunteers from Trout Unlimited collect "grab samples" of water from 43 streams in different watersheds throughout the park. Every two weeks—winter and summer—they also take samples of rainwater, soil, and stream water from a long-term study site near Clingman's Dome in the Noland Divide watershed. They chemically analyze the quality of the water, and use this basic data to ask more in-depth questions. Their analyses help us understand the patterns of pollution in the park and its impacts on the plants and animals we're charged with protecting.
To find out what their analyses tell us, go to page 2: How healthy is the water?