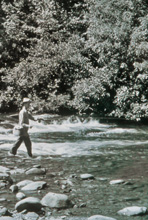 NPS archive photo.
They didn't realize that the introduced fish would outcompete—take over habitat and food sources from—the native brook trout. Fewer native fish survived to breed, and those that did existed in increasingly isolated populations in marginal habitats, often at high elevations where pH was declining most rapidly.
In 1987 the park began restoring brook trout, and in 2000 began treating streams with Antimycin. Because this antibiotic has been accepted as relatively safe and can be neutralized when biologists want to treat a small area or for a short amount of time, National Parks and other protected areas choose it to treat their streams and lakes. The EPA representative at the Lynn Camp Prong treatment was there to observe and gather information about its field use in a protected area.
Of course, moving fish, treating streams, and restoring fish is only part of the whole brook trout restoration story. Read on for more information about how biologists are coming to understand the movements and backgrounds of the brook trout on page 3: Who's who in fish: genetic research.