Vegetation: April-May, 2009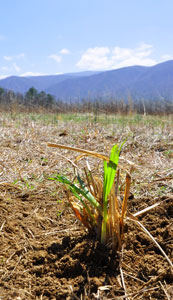 NPS photo.
Gama Grass division and planting in Cades Cove
When vegetation managers collected gama grass seed last fall, they noticed that there weren't many of the corn-kernel-shaped seeds to gather, and over the winter they found that what they had gathered didn't sprout very well. To improve seed production and quality for next season, they experimented with a new planting method in the Cades Cove increase plots: rhizome (root) separation to give each plant more space.

Armed with shovels, special short "sharp-shooter shovels," a tractor with a bush-hog, a tarp, a water tank, a pump (for more water), lengths of p-cord, sunscreen, leather gloves, hand saws and buckets, the gama grass workers assembled in Cades Cove. Americorps volunteers and Park vegetation managers moved down rows of planted gama grass and cut approximately half of each massive grass clump in half, trying to include as much root ball material as possible. They alternated the side from which they cut the roots in order to allow the remaining grass to have as much room as possible. The crew hauled the roots to the tarp, where people divided the them into a size that would fit into the newly dug holes, about 4-6 inches across.

NPS photo.
Nine University of Tennessee college student volunteers helped to dig a new row of holes and to plant the divided roots, after which Americorps members and managers watered the planted grass clumps. At the end of the project, the crew had transplanted a total of 403 gama grass clumps in just over two rows. The seed harvest this fall and propagation this summer will let managers know if their strategy to give gama grass more room worked.
Willow stake planting in Cades Cove
Each year, vegetation managers plant willow stakes along highly eroded portions of Abram's Creek in Cades Cove. The goal is for the willows to take root and hold the eroded banks in place. This year the project took two days to complete; the first day the crew of vegetation managers, Americorps volunteers, and a Volunteer-in-Parks (V.I.P.) prepared the willow stakes for planting by cutting trees with a chainsaw and cutting these stakes into 1'-2' lengths using loppers and hand clippers. Once cut, the stakes were placed into buckets of shallow water: moist ends help to ensure rooting success.

The following day the crew transported the stakes to the site, and the planting began. Five Americorps volunteers waded in the creek to plant stakes along the bank with hammers and handmade wooden mallets. The remaining crew worked above the creek and planted along the creek edge. Over the two days, the crew planted a total of 1440 stakes.
Return to Resource Roundup: April-May, 2009.