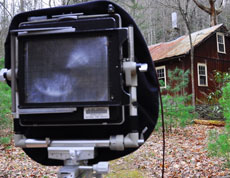 NPS photo.
For a week, James, accompanied by cultural resources staff and by Americorps volunteers who are spending their spring in the Smokies, stepped into dozens of houses to capture their characters. Many houses had collapsing floors and roofs, but using several flashbulbs James was able to document as much of the original architecture as possible. Look for more about this documentation in a Cultural Resources feature in a future issue of "Dispatches."
Recording the present: photographing culturally significant comfort stations
You may have seen coffee table books full of photographs of quirky outhouses. In the Smokies, we also take pictures of our restrooms, but for a different reason. Many of the bathrooms—or comfort stations, as they're called—were built during a National Park Service refurbishment period called "Mission 66." During the 1960s, funds helped parks around the country to build much needed infrastructure; many had not had new buildings since the flurry of construction by the Civilian Conservation Corps in the 1930s. When you travel to parks, you may notice a similar architectural style in park housing, visitor centers, and, of course, comfort stations. Low, stone, and natural colors such as browns and tans predominated in this construction era. The comfort stations are a relic of this day, and Historian Dianne Flaugh and other Cultural Resources staff took photos at Chimneys picnic area in early May. The photographs will go to the National Archives in Washington, D.C.
Return to Resource Roundup: April-May, 2009.