Air Quality: April-May, 2009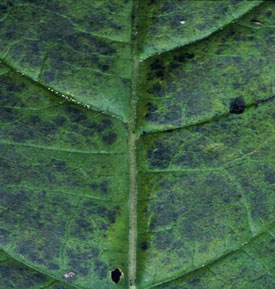 NPS photo. Courtesy of Paul Super.
Environmental Education = Cleaner Air, study finds
A national study concluded that having place-based environmental education programs, such as those that go on at the Appalachian Highlands Science Learning Center, led to better regional air quality. The 2008 study by the National Park Service Conservation Study Institute, the Environmental Protection Agency, and Shelburne Farms, found that "almost half of the Environmental Education programs used in communities resulted in cleaner and healthier air and most of the programs studied had taken some form of action to improve air quality."

At the Appalachian Highlands Science Learning Center—also known as Purchase Knob, its location high in the park's North Carolina hills—school groups from 7th to 12th grade visit a "bio-garden" to monitor the effects of high ozone levels on plant leaves. Students are responsible for recording ozone damage, and theorizing why large, low leaves may have higher ozone damage than new leaves near the tip of the plant. Discussions include how ozone forms from a combination of high pollution levels and high heat/humidity, and how we can reduce it by driving less and promoting clean energy.

The full study, Duffin, M., Murphy, M., & Johnson, B. (2008). Quantifying a relationship between place-based learning and environmental quality: Final report. Woodstock, VT: NPS Conservation Study Institute in cooperation with the Environmental Protection Agency and Shelburne Farms, is available here.