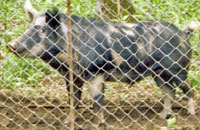 NPS photo.
Hogs that look very different from these black boars also appear. These hogs often have spots and sometimes even have curly tails. People presumably brought these hogs from other states and deliberately released them in the Park so they could hunt them.
What do we do with non-native wildlife? In a typical year, wildlife managers actively trap and shoot wild hogs to stop habitat destruction and disease spread. Most of the work is done from December through June. In a typical winter, wild hogs move to the lower elevation areas where wildlife managers can more easily access them. In the spring and throughout the summer, hogs move to the higher elevation forest in the backcountry, making hog control much more difficult. In a typical year managers remove about 275 hogs from the Park—slightly more than half of those on the North Carolina side.
Wildlife managers also work cooperatively with the North Carolina Department of Agriculture and Consumer Services, the USDA, Animal and Plant Health Inspection Service, and the Tennessee Department of Agriculture to monitor for wild hog disease and disease spread. These studies include taking blood samples from captured hogs and keeping track of capture locations.
Other invasive animals are also problems for the Park, but many of these—the hemlock woolly adelgid and fire ant, to name a couple—are challenges that vegetation managers handle.
Return to Meet the Managers: Wildlife.