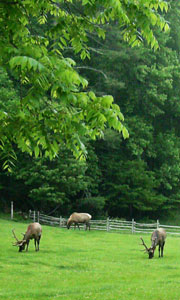 NPS photo.
Elk used to roam the meadows and forests of the Smokies and the entire southeastern United States, but they couldn't survive large-scale habitat loss and over-hunting. The last wild elk in North Carolina died in the late-1700s, and in Tennessee in the mid-1800s. Wildlife managers knew that elk play an important role in grazing grasslands and in the food chain, so reintroduced 25 animals in 2001 and 27 more in 2002 into Cataloochee, the far southeastern portion of the Park in North Carolina.
To read a more complete description of elk history and elk facts, visit the Park's elk information page. Click the "back" button to return to this page.
The Smokies' new elk herd did not flourish at first. Calves were dying at an alarming rate. Wildlife managers discovered that black bears—a normal predator of elk calves, but not one which usually devastates a population—were killing calves. To help the elk population grow, wildlife managers tried an experimental bear-relocation program. For 3 years, managers captured black bears and dropped them off at a site in the Park about 40 miles from Cataloochee. Their goal was not to eliminate bears from the Cataloochee area, because keeping both predators and prey in a habitat is important, but rather to give the elk calves a chance to grow big enough to defend themselves. Managers knew from their work with nuisance bears that most of the relocated bears would make their way back to Cataloochee, although by the time they did, the calves would be big enough to avoid the bears.