Keep bears & your family safe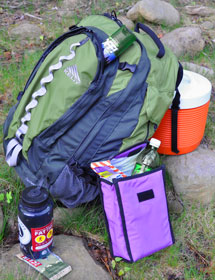 NPS photo.
Keeping human food away from bears is the most important step we can take to keep bears—and ourselves—safe.
When you're picnicking & hiking:
Always stay with your food when it's outside your car—don't leave a picnic, cooler, bag of trash, or backpack alone!
Pack it in, pack it out. Throw away all food scraps and wrappers in a bear-proof trash can or dumpster. You can find these at picnic areas, visitor centers, pullouts, and some trailheads
Make sure grills or fire rings are clear of trash—help a bear out & throw away any litter and food scraps you find, even if you didn't leave them
When you're backpacking in or through the park:
Check Backcountry Information Posters at all permit stations and visitor centers—these list backcountry sites closed due to bear activity, and sites/trails where you should use caution because bears have been active
When you pack, consider the "smelliness" of your food (and its packaging after the food is gone). Bears have a great sense of smell, and your can of sardines may be irresistible to them for days after you've dined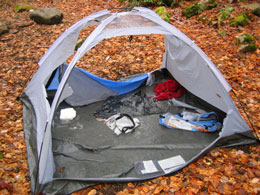 NPS photo.
Consider packing all of your food in one bag inside your pack to contain smells, & to make hanging your food easy
Camp only at designated sites, where you'll find bear cables
USE BEAR CABLES to hang your pack, food, & any other equipment whenever you aren't using it
Cook, prepare food, & eat away from your tent/shelter
Pack it in, pack it out: double-bag all trash in sealed bags, & throw it away when you're back in civilization
Make sure fire rings & shelter fireplaces are clear of trash—help a bear out & throw away any litter you find, even if you didn't leave it
Always report bear activity such as bears approaching people, taking packs, begging for food, or acting aggressively to Park Rangers when you get back from your trip.
Return to Dispatches from the Field: Issue 3.