Success story at Chimneys Picnic Area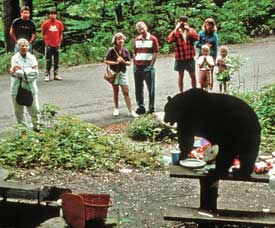 NPS photo.
For wildlife managers such as Kim Delozier, an evening drive to the Chimneys Picnic Area to deal with a nuisance bear became all too common. Visitors started lining up lawn chairs at dusk to watch bears pouring over the hillside to feed off of picnic tables and out of trash cans.
In just 3 years at Chimneys, from 1988-1990, wildlife managers handled (captured) 24 different bears—8 per year, on average—and relocated bears 35 times—often the same bears over and over. During that same period, managers had to euthanize 3 bears that had become aggressive toward humans. One of these bears seriously attacked a visitor, who had to be hospitalized for 10 days.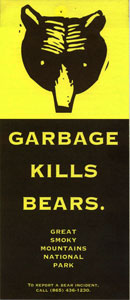 NPS image.
Wildlife biologists saw that it wasn't only bear behavior they had to change: they needed the buy-in from visitors who were used to—and loved—feeding and watching the bears, and they needed logistical support from within the Park itself. Working together, they hoped, would not only control bears that were already problems, but prevent wild bears from associating humans and human areas with easy food.
The plan that managers began in 1991 at Chimneys included
enforcing a strict closing time (8:00 p.m.) at Chimneys picnic area so workers could clean picnic leftovers and prevent the bears that came from finding food or garbage ("re-training" the bears)
shifting maintenance staff schedules from a morning shift to an evening shift so they could clean up after lunch & dinner picnics
enlisting picnickers' support with information signs about managing food and garbage to protect bears
installing larger trash containers (3-yard dumpsters) with bear-proof lids and latches, and emptying them regularly
beginning an intensive education campaign park-wide to teach visitors about black bears that included a black bear folio (available at the Visitor Center), two videos—Learning to Live with Bears, by Bill Landry, and Bear 75: A matter of territory, about one nuisance bear that had to be relocated out of the Park numerous times and was eventually killed by a poacher. Park employees also added information at the Visitor Center desks and to the website educating people about what to do if they encountered a bear. You can read the guidelines of what to do if you encounter a bear here, then use the back arrow to return to this page
aggressively managing "night active" bears by capturing & releasing them on site so they maintained their natural fear of and aversion to people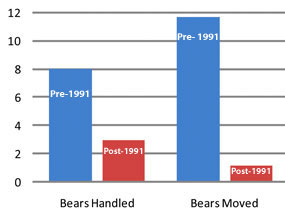 NPS photo.
The results of proactive management were that fewer bears had to be moved or killed, and fewer visitors were injured. At Chimneys, the improvements in bear and human safety were dramatic. In the 17 year period following the new management strategy (1991-2008), managers handled an average of 3 bears per year (about 60 percent fewer bears than before), and only had to relocate 1-2 bears (about 87 percent fewer bears) each year. Managers, maintenance, and other staff implemented many of the new policies park-wide.
The Park also began coordinating with communities outside its borders —Gatlinburg, Cosby, Townsend, Pigeon Forge, Cherokee, and their surrounding developed areas—to reduce bear problems in the entire region. Bears can move easily between the Park and these communities, and as Bill Stiver said, "You can have 10 people in the neighborhood doing the right thing [by not feeding bears], and just one doing the wrong thing. And then you have a nuisance bear." Many individuals in these communities shared the goals & policies regarding bear-proof garbage cans and zero-tolerance for feeding wildlife.
"Where did all the bears go?" ask many visitors who knew Chimneys and its bears in the 1980s. To wildlife managers, this question at a time when the actual bear population is at historically high levels means that the proactive, preventative management has been successful. "We didn't move any bears out of Chimneys," says Bill Stiver. "We just became more proactive [in bear management] and it's working to keep the bears wild and out of human spaces where people would see them. Overall, we're trying to manage for wild bears, and wild bears are afraid of people."
Read about the future of black bears, and how you can help.