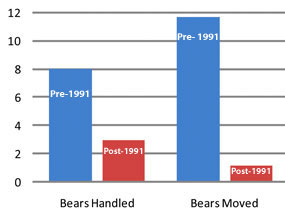 NPS photo.
The results of proactive management were that fewer bears had to be moved or killed, and fewer visitors were injured. At Chimneys, the improvements in bear and human safety were dramatic. In the 17 year period following the new management strategy (1991-2008), managers handled an average of 3 bears per year (about 60 percent fewer bears than before), and only had to relocate 1-2 bears (about 87 percent fewer bears) each year. Managers, maintenance, and other staff implemented many of the new policies park-wide.
The Park also began coordinating with communities outside its borders —Gatlinburg, Cosby, Townsend, Pigeon Forge, Cherokee, and their surrounding developed areas—to reduce bear problems in the entire region. Bears can move easily between the Park and these communities, and as Bill Stiver said, "You can have 10 people in the neighborhood doing the right thing [by not feeding bears], and just one doing the wrong thing. And then you have a nuisance bear." Many individuals in these communities shared the goals & policies regarding bear-proof garbage cans and zero-tolerance for feeding wildlife.
"Where did all the bears go?" ask many visitors who knew Chimneys and its bears in the 1980s. To wildlife managers, this question at a time when the actual bear population is at historically high levels means that the proactive, preventative management has been successful. "We didn't move any bears out of Chimneys," says Bill Stiver. "We just became more proactive [in bear management] and it's working to keep the bears wild and out of human spaces where people would see them. Overall, we're trying to manage for wild bears, and wild bears are afraid of people."
Read about the future of black bears, and how you can help.