Resource Roundup: February-March, 2009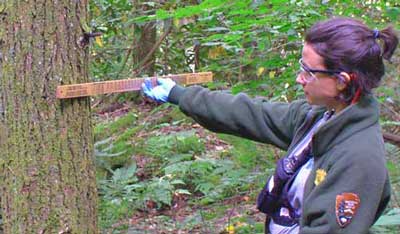 NPS photo.
Click on each Resource Management and Science Program to learn about projects in February-March:
Record rain, wind, and cold in January and February
Do your part, Parks

Magnetic houses? Using the earth's magnetic field to date archeological sites

The slow smolder: fire's off-season
Burning and Bats
Endangered Squirrels, Burning, and Felling
Traveling Fire
Preparing Cades Cove for Burning
Congratulations--It's a Helicopter!

Cleaning the air to help the water

Mapping Rare Natural Communities
Map of Global Rarity in the Smokies

Transplanting many plants
National and Statewide Recognition for Invasive Weed Awareness Week in Tennessee
Volunteers in Great Smoky Mountains National Park
New Teams for Exotic Species Control
Year's End Reports
Rangers nab poachers in the Park

Sickness Surveillance
Elk Update
Return to Dispatches from the Field: Issue 2.