Deciding on a research question
Becky and Chuck chose eight streams in the Park for their baseline study: four in "pristine" hemlock forests with healthy trees, and four in "impacted" hemlock forests, where the hemlock woolly adelgid left stands of dead trees. They prepared to monitor any changes in species, number, and health of macroinvertebrates in the dying hemlock forest streams that could result from changing temperatures.
Conducting the study and changing course
From the first day of their field work, Becky and Chuck faced an interesting complication: hemlocks all over the Park were dying faster than anyone had thought they would. Some of the forest areas they had labeled as "pristine" had fallen victim to the hemlock woolly adelgid. Instead of comparing stream life in dead hemlock forests to the stream life in pristine hemlock forests, they were faced with a new question: how do aquatic macroinvertebrates in the dying hemlock forests compare to those in the already dead hemlock forests?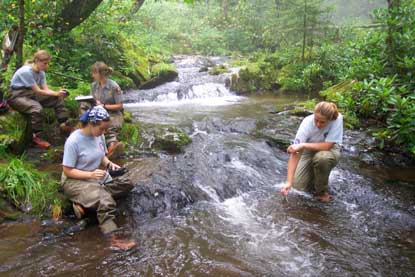 NPS photo.
In the field
To construct a baseline and answer their research questions, Becky and Chuck, sometimes accompanied by interns, pull on their waders and splash into streams. In the summer, the waders are heavy and hot. In the winter, the scientists are bundled against the cold and crawling on their hands and knees to follow the waterway. No matter the season, it's important that these scientists follow an established sampling protocol, or system of taking samples of stream life, at each of the streams. Once they're at the stream, they follow the following protocol:
1. Describe the structure of the stream: measure the width, depth, and gradient (how steeply it slopes) every 10 meters (about 30 feet), for a total of 10 measurements over 100 meters. This description is also called a stream profile.

2. Take basic water conditions: Measure the water temperature, conductivity (a measure of which metals are in the water), pH (acidity), and dissolved oxygen. In addition to measuring conditions each time they are in the field, a sensor they placed under a rock records temperature over many months.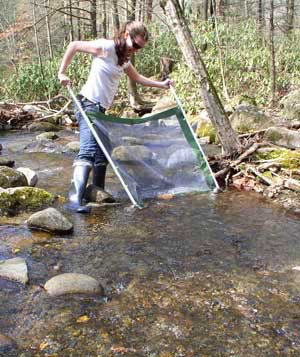 NPS Photo.
3. Sample for macroinvertebrates using these tools:

Kick net In fast moving "riffles" of water, researchers turn over rocks and "wash" their surfaces so aquatic macroinvertebrates flow downstream into the wide expanse of net.
D-net In silty and murky pools, this can scoop tiny critters with its fine mesh.
Detritus bucket An adapted bucket with a mesh bottom, this is perfect for catching critters on sticks and in packed leaves.
Sand samples Another fine mesh screen catches some of the smallest invertebrates that live between grains of sand.
Visuals A keen eye can catch snails, crayfish, and other invertebrates on rocks and logs.
4. Take samples of macroinvertebrates back for identification and counting.
Read about Early results.