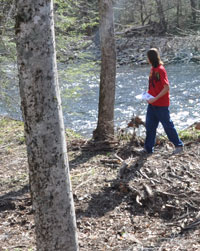 NPS photo.
Have you heard of citizen science? Increasingly, parks, museums, and other organizations are collecting valuable science information with the help of people who aren't necessarily trained as professional scientists. In Great Smoky Mountains National Park, citizen scientists of all ages have played a role in different projects throughout the years. In recent years public volunteer citizen scientists helped replant poached ginseng, monitor the starting time of leaf-out and other phenologies, and collected dragonflies for a study of mercury in park animals, among other projects.
Current projects with the park, Discover Life in America, and the Great Smoky Mountains Institute at Tremont are great ways for visitors and locals to get outside, learn, and help, as well as an excellent way for the park to investigate questions it otherwise would be unable to answer. Here are just some of the ways citizen scientists are helping resource managers at the Smokies collect science information in the field:
Phenology observations: When does spring come? Are birds migrating earlier? Public, student, and camper volunteers collect information about the minute changes in living things—trees, wildflowers, and bird migrations—that give us clues about the larger picture of climate change and seasons in our park. As part of a new effort, school groups in Parks as Classrooms programs, visitors going on ranger-led hikes, campers at Tremont, and citizen science volunteers all have a chance to collect information about individual animals and plants. On a given day a note that a red-eyed vireo is singing, or that a magnolia's leaves are just peeking out, provide simply an interesting snapshot. But collected over time, these observations about when living things leaf out, change color, bloom, fly north, and perform other cyclical changes give us a great look at long-term trends. These observations are part of a long tradition in these mountains: the park's first naturalist, Arthur Stupka, left detailed phenology notes from the 1930s-50s, and for decades Tremont has tracked changes in natural systems of Walker Valley.