Mapping Change - the research process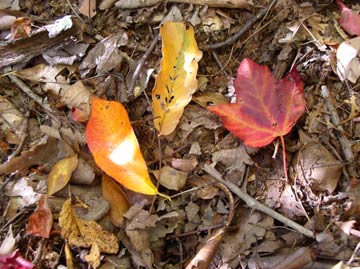 NPS photo.
Before she leaves for the field, Bettina selects sites from Davenport's route, which she's charted on topographical map sections in the park's Science and Education Center at Twin Creeks. She uploads topographical data into the GPS and packs this with a compass, plant guide, camera, paper and a pen, and plenty of snacks for the trail.
Often, the state line and the Appalachian Trail follow one another, so accessing Davenport's "witness trees" is easier than it might otherwise be. In some sections, we hike for miles along the well-maintained trail and veer off for a quarter mile through thick forest. When we reach the site, she begins the site documentation: she notes the azimuth (compass direction) of the slope, marks the spot with the GPS so she can look at the route and points on a computer later, takes photos of the forest canopy and individual species, and then brings out the paper and pen.
Bettina notes every plant species that she finds within 50 meters of Davenport's marked point. Ideally, she says, she would find a very old tree that perhaps had been marked with Davenport's "X." Even if she doesn't, she checks to see if the species he noted are still growing at that point. Sometimes the forest is so dense that finding, identifying, and writing down all the species takes an hour or more. Other times, especially on high elevation ridgetops, there are only a few different species and she can record and move on to the next site quickly.