In Summer (June-September)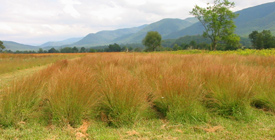 NPS photo.
Exotic plant, insect, and animal control. There is a lot of work to be done to control invasive plants and to stop rooting hogs and savagely biting fire ants. In the summer, while the blades soak up sun in the long days, Steven and his crew eradicate fescue, privet, multiflora rose, non-native species of Lespedeza, and many other plants. They also keep an eye out for signs of introduced hogs, which root out native plants, and for the huge fire ant mounts whose occupants pose a safety risk to people and ground nesting animals.
Return to NPS Profile: Restoring Native Grassland Communities in Cades Cove or see what vegetation managers do in Fall, Winter, and Spring.