In Spring (April-June)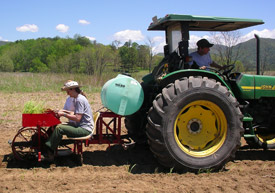 NPS photo.
Sowing seed. When the winds are warm and the soil begins to thaw, it's time to plant the seedlings (called plugs) that Cherie, Steven and their crew have tended in the greenhouse. They head out to Cades Cove with a special planting machine: a tractor-drawn mechanical transplanter. The transplanter cuts a furrow in the soil as it moves, drops the seedling plugs into the cut earth from a rotating wheel, then gently closes the furrow as it passes over. For now, Steven says, they plant the grasses in rows so they can easily harvest the seeds and monitor how much they have planted over time. They cultivate and harvest about fifteen acres of native grasses per year. After years of this grass "farming," they are able to mix the grass seed and replant between two and five acres of the Cove each spring with a medley of native grass species. Their goal of providing mixed, self-regenerating habitat for insects, birds, and animals is well under way.
Return to NPS Profile: Restoring Native Grassland Communities in Cades Cove or see what vegetation managers do in Fall, Winter, and Summer.