In Winter (November-April)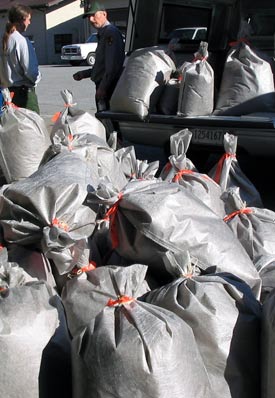 NPS photo.
Seed drying and cleaning, plug propagation, and controlled burning. When Steven and his crew come in from the fields with their huge cloth sacks stuffed full of seed, they store it in piles to air dry. These piles of downy fluff can be as big as five feet across and three feet high.
Cherie Cordell, the greenhouse coordinator, plants portions of this seed in greenhouses near the Twin Creeks Science and Education Center to produce seed plugs for Cades Cove. She mixes the rest of the seed in a mixture that they'll use for a process called no-till seed drilling, where seeds are "injected" into the fields. Seedlings destined for many restoration projects, including wetland restoration and native seed stock, spend their first few months here.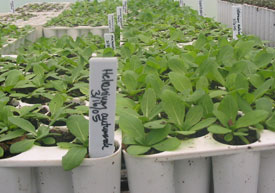 NPS photo.
Late winter, when ground-nesting birds have left their nests, is also time for prescribed burns and mowing. Friends of the Great Smoky Mountains National Park and the Smoky Mountains Association have provided extra funds for mowing each year. Vegetation managers also began "rotational burning," which means burning each field every three years in a cycle, in 2003. The regular fires scorch the invasive species and return them to the earth as nutrients, and regenerate the native grasses that evolved with lightning- and human-set fires.