In Fall (September-November)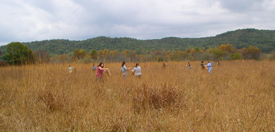 NPS photo.
Seed Harvesting. The very first harvests of native seeds were in small patches of remaining native grasses. Now, Steven and his crew use a tractor and brush to skim delicate seeds off of Indian Grass (Sorghastrum nutans), move in pairs along rows of native bush clover (genus Lespedeza—there are native and non-native species of this in the park), and walk nearby to planted rows of wild quinine (Parthenium integrifolium). They also harvest little blue stem (Schizachyrium scoparium) and gamma grass (Tripsacum dactyloides).
Frequently, volunteers--such as those pictured above from Gatlinburg's Pi Beta Phi middle school--help to harvest seeds by hand. Students can help vegetation managers in this and other efforts in Parks As Classrooms Service Learning Projects.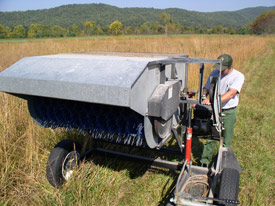 NPS photo.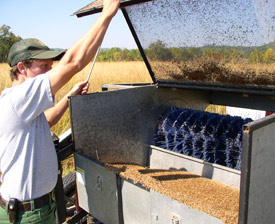 NPS photo.