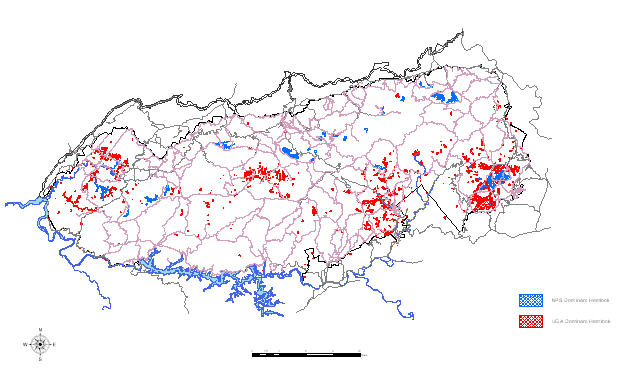 NPS
Researcher Databases:
As a researcher in these national parks, your data is extremely valuable to us! We are charged by Congress to inform our management decisions with the best scientific data available. Your datasets may come in one of a wide variety of formats, but often with minor modifications your data can easily interface with existing NPS databases. For work in the Smokies, please contact the Data Manager, as early as possible in your study to discuss mutual access to datasets and compatibility. Publicly available data is posted on the NPS IRMA Portal.
GIS:
Great Smoky Mountains National Park

—All publicly available GIS datasets are posted online at the

NPS IRMA Portal

. More are added every month. For example, data on

landslides and other disturbances

was recently posted. You can access the Smokies data by selecting "Great Smoky Mountains National Park" from the NPS Unit dropdown. The same can be done for other NPS sites. GIS themes currently or eventually available include vegetation cover, bedrock geology, disturbance history, fire history, atmospheric deposition models, and topographic indices. The data for the Natural Resources Conservation Service

NRCS soils map

that was just completed for the Park also can be downloaded at the

Soil Data Mart

under "Tennessee."For specific questions regarding the Smokies, contact the park

GIS Specialist

and please provide sufficient time to formulate a response in advance of your need.
Return to researcher home page.
---
Long-term studies and data sets:
Research in All Parks

—All of the permits for research projects in all National Park Service sites since 2001, and many projects from before that, can be searched at the

permit database web site

. Most of the reports researchers turn in annually (IARs) are also searchable at this site, though reports containing sensitive information, especially of rare species, are not publicly available.

All Taxa Biodiversity Inventory

—The ATBI is a project of

Discover Life in America

(DLIA) in partnership with the National Park Service, seeking to inventory all of the species of living organisms in Great Smoky Mountains National Park. The project has documented over 15,000 organisms to date. The project will develop checklists, reports, maps, databases, and natural history profiles that describe the biology of this rich landscape to a wide audience. The species level of biological diversity is central to the ATBI, but the project is developed within an ecological and conservation context and encourages understanding at other levels of organization, including genetic variation within species and ecosystem descriptions. The beta version of the

database

of species records from ATBI work can be accessed online at the dlia.org web pages.

Air Quality Monitoring & Research Program

—Great Smoky Mountains National Park has collaborated with over one dozen projects to monitor and study meteorology, climate, and atmospheric pollution. Most of the data collection has focused on Look Rock (2700 ft, Blount County, TN), Clingmans Dome (6660 ft, Sevier County, TN), and Cove Mountain (4150 ft, Sevier County, TN), but data collection for some programs are also collected at as many as twenty sites throughout the park. These three air quailty stations have

hourly data

that can be retrieved on-line. See the attached

document

for information about specific data sets.

National Weather Service

—The National Weather Service data is on-line at the

National Climate Data Center (NCDC) website

. The cooperative station data for park headquarters is listed by NCDC as "Gatlinburg" (since 1948). One can also find Cades Cove (since 1991), Mt. LeConte (since 1987), and Oconaluftee (since 1958). The Weather Service does not post Newfound Gap, Cove Mountain, or Purchase Knob data to the web. They only have the hard copy data in Morristown, TN. See attached

document

for information about specific data collection sites in the Smokies.

Water Quality

—All water quality data collected for the NPS in Great Smoky Mountains NP streams is available at the

NPS STORET

webpage. Most of the other water quality data for other NPS sites is also at this site or will be eventually.

Appalachian Highlands Inventory and Monitoring Network

—Launched in 2000, one goal of the NPS Inventory and Monitoring program has been to complete vegetation mapping and inventories of all vertebrate groups and vascular plants in the entire National Park system. The Appalachian Highland Network oversees monitoring of key indices of the health of the natural resources and systems of the four parks in this Network. Monitoring and inventory programs in the Smokies have a much earlier start date as the Smokies was selected in 1992 to be a prototype Inventory and Monitoring park. Reports can be found on-line at the

Natural Resources Publications Management

website.

Bird Research in North Carolina

—NC Partners in Flight and the NC Wildlife Resources Commission have compiled a list (2005) with all known research, inventory, and monitoring activities involving birds over the past decade or more throughout the state of North Carolina. This includes work on the Blue Ridge Parkway and Great Smoky Mountains National Park, as well as surrounding research stations and land management areas.

MAPS

—Great Smoky Mountains National Park maintained two Monitoring Avian Productivity and Survivorship bird banding stations from 2000-2006 (at Tremont, TN, 1,476 ft / 450m elevation) and from 2002-2006 (at Purchase Knob, NC, at 4,675 ft / 1,425m elevation). These stations follow the protocols of the Institute for Bird Populations. A MAPS station was initiated in 2008 at Richland Balsam on the Blue Ridge Parkway. A MAPS station was operated at Bass Lake near Blowing Rock, NC, on the Parkway from 1996 to 2001.

Noland Divide Research Watershed—This 43 acre (17.4 hectare) watershed in the high elevation spruce/fir forest on the North Carolina side of Great Smoky Mountains National Park has been studied intensely since 1993, looking primarily at nitrogen cycling and biogeochemistry.

Salamander Monitoring—Salamander surveys in Great Smoky Mountains National Park and Coweeta Hydrological Laboratory date back without gaps since 1994. Drs. Joe Pechmann and Jeremy Hyman of Western Carolina University continue a project conducted by Nelson Hairston Sr. and R. Haven Wiley of UNC-Chapel Hill.

Citizen Science-/Based Monitoring—Salamander monitoring using cover boards, timed searches, and/or Pauley bags has been conducted at Tremont since 1999 and at Purchase Knob since 2000. Phenology records (first bloom, leaf-out, bird return, etc.) have been kept at Tremont since the mid-1980s.