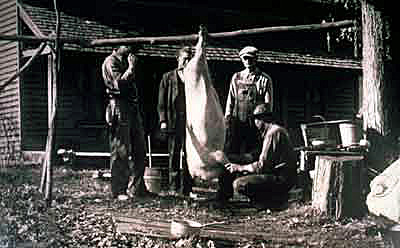 NPS Archives
On hog killing day, families usually started their preparations well before daylight. The number of hogs butchered depended on the needs of the family and might range from one to eight. The animals were usually killed by a sharp blow to the head or by shooting the animal in the head. The jugular vein was cut to drain the blood from the body, after which it was immersed in hot water or had hot water poured over it to loosen the hair so it could be scraped off. The carcass was then hung by its hind legs and the animal was gutted to remove the organs and intestines which were set aside for later use.
It was moved to a table where it was butchered into various cuts such as tenderloin, shoulders, hams, and side meat. The fat trimmings were put into a large pot and heated to render the lard. Almost every part of the hog could be eaten, from the feet to the tail and right on out to the snout. The old saying was that you could use every part of the hog except the "squeal." Some of it was eaten fresh while other parts were preserved for later use.
Although smoke was sometimes part of the preservation process, salt was the primary ingredient for curing meat. Many families used salt mixed with other ingredients such as pepper, sugar, molasses, or saltpeter. Whatever the mixture, it was spread over the large pieces of meat. These were then placed on shelves or in boxes in the meathouse where they were stored during cold weather while the curing process took place. A meathouse of this type is preserved at the Mountain Farm Museum.
Several additional applications of the salt mixture were usually made to guarantee penetration into the meat, which would retard the bacteria growth. Depending on the size of the cuts of meat, the curing process could take up to several months. If the family needed meat during the winter, it was simply cut from a piece in the meathouse, washed to remove the salt, and cooked.
As the weather warmed, families needed to protect the meat from insects. Most farmers washed the meat and coated it with a mixture that often included combinations of the same ingredients used in curing. Some would then hang the meat in the meathouse, while others placed the meat in boxes that might be filled with shelled corn, cornmeal, or even clean, sifted wood ashes. Many felt that this not only helped protect the meat from insects, but "sweetened" it as well.
If meat was to be smoked, it was hung in the meat or smoke house and subjected to a smoky hardwood fire for up to a week. Many families smoked meat simply because they liked the added flavor, although chemical compounds found in smoke did help protect it from bacteria and insects.
Text by Tom Robbins