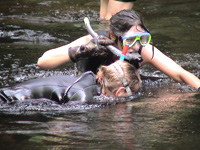 NPS photo by Susan Sachs
Educator Training Opportunities
Professional development seminars are offered on a variety of topics in partnership with a variety of organizations. New training opportunities are added occasionally so check back periodically for upcoming opportunities.
2013 Workshops: All workshops qualify for North Carolina state environmental education criteria I, II or III credit and continuing education unit (CEU's) depending on the workshop length.
Workshops are listed below but more information on each can be found at our Professional Development page.
Friday, February 15 - Sunday, February 17: Likin' Lichens.
Friday, May 3 - Sunday, May 5: Spring Research in the Smokies.
Monday, June 17- Saturday, June 22: Smoky Mountain Science Teacher Institute at the Great Smoky Mountains Institute at Tremont.
Friday, August 2 - Sunday, August 4: Advanced Air Quality at Tremont
Friday, October 25 - Sunday, October 27: Got Elk? Fall Research in the Smokies.