Sandboarding and Sand Sledding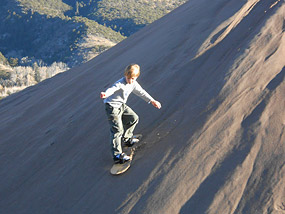 NPS/Patrick Myers
One-minute video introduction
Sandboarding and Sand Sledding at Great Sand Dunes
Learn to use the right gear and techniques in this fun 1-minute video with music on YouTube. National Park Service, 2013.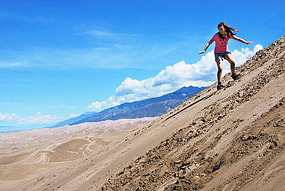 NPS/Patrick Myers
Sand sledding or sandboarding can be fun with the right gear and conditions. Below are tips for an enjoyable and safe sledding or sandboarding experience at Great Sand Dunes.
What Works
YES: Sandboards and sand sleds are specifically made for sand, featuring a special design and slick bases; these work best for sliding in most conditions.

NO: Snow sleds, snowboards and skis only slide on wet sand after rain or snow. The sand is usually dry.

NO: Cardboard, rounded saucers, and soft plastic items do not slide on sand; they will dig into or drag on the sand.

NO: Rectangles of rigid plastic or masonite may slide, but are not safe: there is no way to control or steer them, and their angled edges could cause injuries.
When to Go
Plan your dunes time for early morning or evening during summer to avoid 150 degree F sand or thunderstorms. In spring and fall, sand temperatures are usually moderate throughout the day, but spring afternoons can be very windy.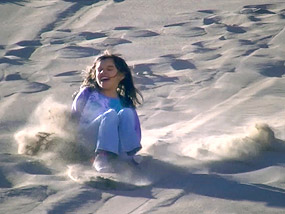 NPS/Patrick Myers
Where to Go
Sandboarding, sledding, and skiing are permitted anywhere on the dunefield away from vegetated areas. From the main visitor parking area, it's a minimum 0.7 mile (1km) hike to get to the small or medium-sized slopes; the top of the first big dune is 1.25 miles.
With high clearance 4WD vehicle, visitors may drive on the Medano Pass Primitive Road to the Castle Creek Picnic Area; there, a 300' tall slope is right across from the parking area.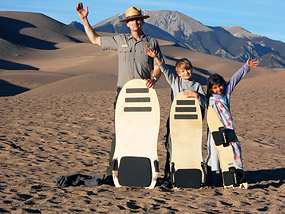 NPS/Patrick Myers
Rentals
Great Sand Dunes National Park does not rent sleds or sandboards; these may be rented or purchased at two retailers in the San Luis Valley.
Sandboards and sand sleds are available year-round for rent or purchase at Kristi Mountain Sports in Alamosa, 719-589-9759. (Kristi will not rent them when the sand is frozen during the coldest months, since frozen sand may break a board.)
From April - October, sandboards and sand sleds are available for rent at the Oasis Store just outside the park entrance. 719-378-2222.