Schedule Of Events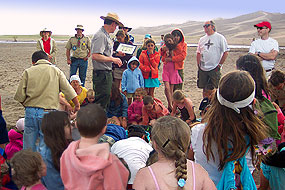 NPS/Melanie Rawlins
Free Ranger Programs
Your visit can be more enjoyable when you better understand the environment around you. Ranger programs are offered most days in summer, and on most weekends during spring and fall. View the current schedule of programs!

You may request a special program for a group by calling the Visitor Center at 719-378-6399, or send an email.
NPS Photo
Junior Ranger Day Each summer the park hosts a special day with special activities for kids, including learning about nature, primitive skills, sand sculpturing, crafts and more. This year's Junior Ranger Day is June 7, 2014. Plan to arrive early, since parking, campsites and lodging fill quickly at this time of year.
NPS Photo
K-12 Education Programs
are available throughout the year, by reservation only. Hands-on discovery in the dunes, forest, or wetlands are available seasonally, and classroom visits are available in winter months.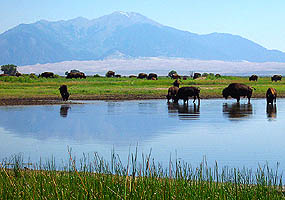 NPS/Patrick Myers
The Nature Conservancy partners with the National Park Service to protect the entire dunes system and its biodiversity. Bison Tours are offered by Zapata Partners, who manage the herd of over 1000 bison on Nature Conservancy lands within national park boundaries. These are led as a hayride (warmer months only) or 4WD vehicle tour. 4WD vehicle tours are offered anytime as staffing permits, and as long as there is a minimum of 4 people. Hayrides are offered by reservation for larger groups. Please call ahead to confirm times and prices. The Zapata Ranch also offers ranch experience stays and lodging in their historic ranch rooms. Please call 1-888-5-ZAPATA (927282) ext. 110, or click the Bison Tours link above.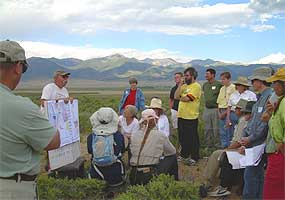 Photo by Erich Schwiesow, courtesy Colorado Field Institute
Colorado Field Institute
is a Colorado non-profit organization whose purpose is "To expand stewardship of the natural and cultural resources of the San Luis Valley while increasing sustainable economic development in the region." CFI-sponsored programs are primarily in-depth, outdoor activities developed to complement the programs of cultural and natural resource management agencies, including Great Sand Dunes National Park and Preserve. Please click on the link above for information on CFI's current schedule of programs.
Search for Events
Sorry, but there are no events between 04/18/2014 and 05/01/2014

Did You Know?
Great Sand Dunes is home to at least six endemic insect species - found nowhere else on earth. The Great Sand Dunes Tiger Beetle is the best known of these endemics. More...