Main Park Phone Numbers Not in Service

The two main phone numbers to the park, 378-6399 and 378-6300, are not in service at this time. Voicemail is not functioning. Please call the Visitor Center at 719-378-6395 between 8:30-6:00 MST to reach a staff member.
Schedule Of Events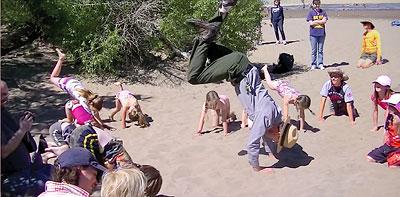 Cana Myers
Free Ranger Programs
Your visit can be more enjoyable when you better understand the environment around you. Ranger programs are offered most days in summer, and on most weekends during spring and fall. View the current schedule of programs!

You may request a special program for a group by calling the Visitor Center at 719-378-6395, or send an email.
Courtesy U.S. Mint
Great Sand Dunes National Park Quarter Launch
and Coin Exchange
Everyone is cordially invited to this special event commemorating the release of the 2014 Great Sand Dunes National Park quarter, the 24th coin to be released in the United States Mint America the Beautiful Quarters Program.
The quarter launch will take place September 4, 2014 at 10:00 am, Great Sand Dunes Parking Area.
A coin exchange begins immediately following the the quarter launch event. One roll ($10) minimum, 10 roll ($100) maximum.


The United States Mint will host a coin forum the evening before the event (September 3) at the Alamosa Recreation Center from 7:00 - 8:00 pm.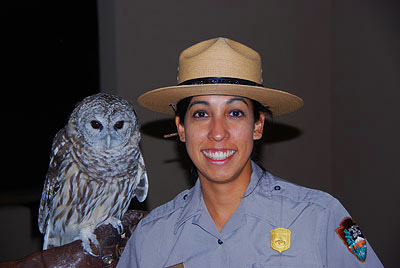 NPS/Patrick Myers
Free Programs with Live Raptors July 19 and Sept. 5
On Saturday, July 19 and Friday, September 5, 8 p.m. – 9 p.m., join the Nature and Raptor Center of Pueblo for a 45-minute presentation at the Amphitheater to learn more about raptors in Colorado. Meet a live owl, eagle, and other birds of prey!
Upcoming Special Events
August
Monday, August 25 - National Park Service Birthday
Enjoy a fee-free day to celebrate the birthday of the National Park Service. On this day in 1916, the National Park Service was established as a federal agency of the Department of the Interior, responsible for protecting national parks and monuments. Great Sand Dunes will honor this day in history with ranger programs that highlight other special places that the National Park Service protects.
September
Thursday, September 4 – Great Sand Dunes America the Beautiful Quarter Launch Ceremony
Great Sand Dunes will host a ceremony at the Dunes Parking Lot in honor of being featured on the reverse side of a new U.S. Quarter. The image selected for the Quarter is representative of Great Sand Dunes and portrays unique features such as Mount Herard and the picturesque dunes. The ceremony will be free and open to the public.
Friday, September 5 – "Birds of Flight", Pueblo Nature and Raptor Center – 8 p.m. – 9 p.m.
Join the Nature and Raptor Center of Pueblo for a 45-minute presentation at the Amphitheater to learn more about raptors in Colorado and meet a live owl, bald eagle, and other birds of prey!
All programs and events are free and open to the public. Entrance fees are $3 per adult (age 16 and older). Entrance fees are valid for one week from date of purchase. Time and location of events and programs are subject to change.
Other Programs and Annual Events
NPS Photo
Junior Ranger Day Each summer the park hosts a special day with special activities for kids, including learning about nature, primitive skills, sand sculpturing, crafts and more. This year's Junior Ranger Day is June 7, 2014. Plan to arrive early, since parking, campsites and lodging fill quickly at this time of year.
NPS Photo
K-12 Education Programs
are available throughout the year, by reservation only. Hands-on discovery in the dunes, forest, or wetlands are available seasonally, and classroom visits are available in winter months.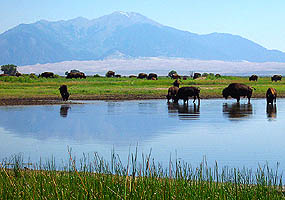 NPS/Patrick Myers
The Nature Conservancy partners with the National Park Service to protect the entire dunes system and its biodiversity. Bison Tours are offered by Zapata Partners, who manage the herd of over 1000 bison on Nature Conservancy lands within national park boundaries. These are led as a hayride (warmer months only) or 4WD vehicle tour. 4WD vehicle tours are offered anytime as staffing permits, and as long as there is a minimum of 4 people. Hayrides are offered by reservation for larger groups. Please call ahead to confirm times and prices. The Zapata Ranch also offers ranch experience stays and lodging in their historic ranch rooms. Please call 1-888-5-ZAPATA (927282) ext. 110, or click the Bison Tours link above.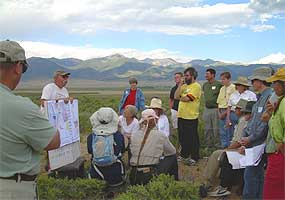 Photo by Erich Schwiesow, courtesy Colorado Field Institute
Colorado Field Institute
is a Colorado non-profit organization whose purpose is "To expand stewardship of the natural and cultural resources of the San Luis Valley while increasing sustainable economic development in the region." CFI-sponsored programs are primarily in-depth, outdoor activities developed to complement the programs of cultural and natural resource management agencies, including Great Sand Dunes National Park and Preserve. Please click on the link above for information on CFI's current schedule of programs.
Search for Events
Sorry, but there are no events between 07/24/2014 and 08/01/2014

Did You Know?

Medano Creek, flowing at the base of Great Sand Dunes, is one of the few and best places in the world to experience "surge flow", where creek water comes in rhythmic waves. More...