Astronomy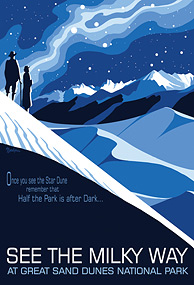 Image by Tyler Nordgren
During your visit to Great Sand Dunes, be sure to spend an evening with the stars! Located at 8200 feet (2490m) in elevation, in a rural corner of the high-mountain San Luis Valley, Great Sand Dunes National Park and Preserve is an easily accessible dark sky viewing location! The panoramic image above shows the arc of the Milky Way galaxy through these dark night skies.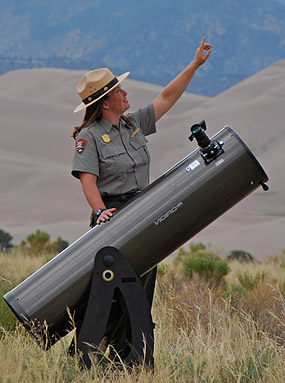 NPS/Patrick Myers
Programs and Events
Summer night programs are a good way to experience and understand the night sky and nocturnal ecology. Check the program schedule during summer months to see what evening programs are scheduled during your visit. Half the park is after dark!

Get your free star charts and sun/moon calendars at the Visitor Center. Additional items are available at the Visitor Center bookstore, including flashlights and red light star chart readers.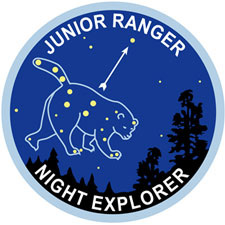 NPS
Junior Ranger Night Explorer
Kids ages 5-12 can be become a Junior Ranger Night Explorer and earn a Night Explorer patch by completing an activity booklet. Activities are divided into several age levels. Get your free booklet at the Visitor Center!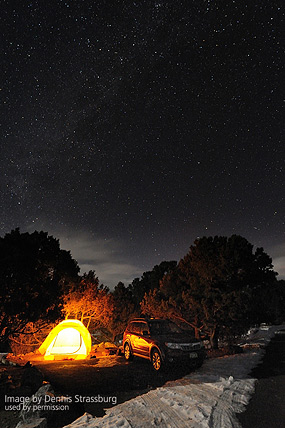 Image by Dennis Strassburg - Used by Permission
How to Stargaze
This park is open year-round, so whether you are stargazing from your campsite or during a night hike, great views can be obtained as soon as you turn off your lights! Use all of your senses to observe the night: look for shooting stars, constellations and the Milky-Way, feel the soft night breezes, listen for the call of owls, the howling of distant coyotes, and kangaroo rats thumping warnings to each other. You may notice that your senses grow sharper as you spend more time in dark and quiet locations.
Planning Your Stargazing
Free star charts, sunset calendars and moon calendars are available in the Visitor Center during normal business hours. Additional items are also available for purchase in the park bookstore, including small flashlights. Dunefield stargazing, night hikes and moon hikes are highly enjoyable; you might even take the challenge to hike to the top of Star Dune - the tallest dune in North America. Make sure to plan in advance how you will find your vehicle after you return, as the parking lot/trail access is not obvious in the dark. To help ensure that you minimize your impact, also keep an eye out for the night-life of the dunes, which includes many species of nocturnal insects (some endemic to this area), kangaroo rats, and tiger salamanders. Never touch wildlife, and remember that their eyes are highly sensitive to light.