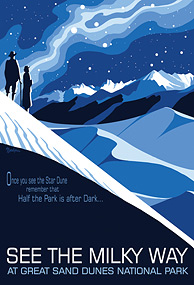 Image by Tyler Nordgren
Half the park is after dark! Nightime at Great Sand Dunes can include dunes exploration under a bright full moon, viewing thousands of stars on a clear moonless night, listening for owls along the foothills, or viewing migrating amphibians on a wet night.
With a combination of dry air, little light pollution, and high elevation, Great Sand Dunes National Park and Preserve is an excellent and easily accessible dark sky viewing location!