Great Sand Dunes Partners
Great Sand Dunes NPP has many partners that assist in protecting the entire Great Sand Dunes ecosystem, and help provide for public enjoyment and education.
NPS Photo
Friends of the Dunes, Inc. was founded in 1989 to provide a forum for citizen involvement at Great Sand Dunes National Park and Preserve. The Friends have sponsored many events, symposiums, and research projects at the park.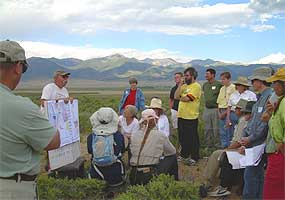 Photo by Erich Schwiesow, courtesy Colorado Field Institute
Colorado Field Institute
is a Colorado non-profit organization whose purpose is "To expand stewardship of the natural and cultural resources of the San Luis Valley while increasing sustainable economic development in the region." CFI-sponsored programs are primarily in-depth, outdoor activities developed to complement the programs of cultural and natural resource management agencies, including Great Sand Dunes National Park and Preserve. Please click on the link above for information on CFI's current schedule of programs.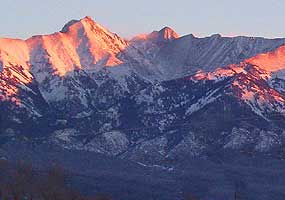 NPS Photo by Patrick Myers
US Forest Service
Great Sand Dunes National Park and Preserve are surrounded on the north, south, and east by lands managed by the US Forest Service, including the Rio Grande National Forest (west side of the Sangre de Cristos) and the San Isabel National Forest (east side of the Sangre de Cristos). Eight 14,000' peaks and many other peaks, valleys, alpine lakes and streams are found within these two national forests of the Sangre de Cristo Mountains.
NPS Photo
Bureau of Land Management
The BLM manages lands near the park, including popular Zapata Falls and Blanca Wetlands.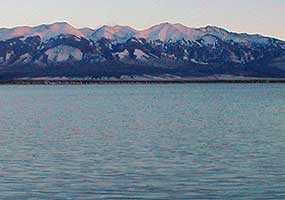 NPS Photo
Colorado State Parks
San Luis Lake State Park features a large natural lake now maintained at year-round levels through a canal system. San Luis Lakes State Wildlife Area protects a wetland complex adjacent to Great Sand Dunes National Park. San Luis Lakes are part of the Great Sand Dunes' wetland system called the sabkha.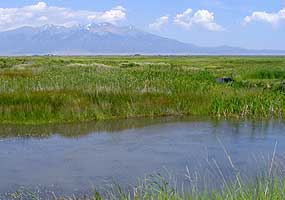 NPS Photo by Scott Hansen
US Fish and Wildlife Service
Because of its many wetlands and strategic location for many unusual migratory birds, the San Luis Valley is home to three national wildlife refuges. Two are currently open to the public. The third, Baca National Wildlife Refuge, is not open to the public at this time; management planning is scheduled in coming years. Baca NWR was created in 2004 as part of the expansion of Great Sand Dunes National Monument into a national park and preserve, protecting the entire natural hydrological system of the Great Sand Dunes.
Alamosa NWR is located a few miles southeast of Alamosa, Colorado. It features wetlands along the Rio Grande River.
Monte Vista NWR is south of Monte Vista, Colorado. This refuge contains many restored or enhanced wetlands associated with agricultural lands. It is one of the hotspots in the valley to view thousands of sandhill cranes each spring and fall.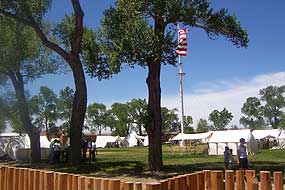 NPS Photo by Patrick Myers
Fort Garland
Fort Garland's history is intertwined to some extent with that of Great Sand Dunes. Each year both work together to host Old Stories, New Voices, connecting inner city and minority youth to their natural and cultural heritages. Browse the Colorado Historical Society's web pages on Fort Garland.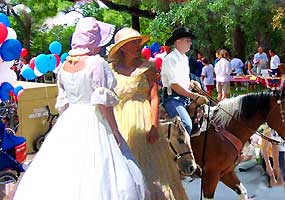 NPS Photo
Alamosa County and Saguache County
Great Sand Dunes National Park and Preserve is situated in Saguache County and Alamosa County. The closest town to the park and its mailing address is Mosca, Colorado.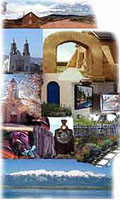 Photo collage courtesy of Los Caminos Antiguos Scenic and Historic Byway
Los Caminos Antiguos Scenic and Historic Byway
Part of the national system of scenic and historic byways, Los Caminos Antiguos gives the traveler a taste of the diverse cultural and natural resources of the San Luis Valley. From historic adobe churches in the southern part of the valley to an organic quinoa farm near Mosca, the valley's rich heritage comes to life.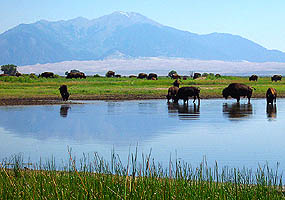 NPS Photo
The Nature Conservancy
manages the
Medano-Zapata Ranches
in and adjacent to the national park. Within the national park, the Conservancy manages a herd of over 1500 bison.