Great Sand Dunes Visitor Center Closed on
May 13, 2015
The Great Sand Dunes visitor center including the exhibit area and bookstore will be closed all day on
Wednesday, May 13
while staff works on the Medano Pass Primitive Road. Rangers will still be on patrol. Restrooms, water fountains, and general information such as free park maps, visitor guides, and passport cancellation stamps will be available at the visitor center entry way. Backpackers can self register for backpacking permits in the National Park. However, rangers will not be available to assist with backcountry trip planning. Visitors interested in a backcountry permit can visit the park
Backpacking Page
for more information on park backcountry campsite locations and rules and regulations.
The park and preserve remain accessible 24 hours a day, 7 days a week. The campground, and other developed areas of the park will remain open for visitors to enjoy. First-come, first-serve and by-reservation campsites are available at the Pinon Flats Campground for $20/night. The campground is located, 1 mile further down the park road, south of the visitor center.
The visitor center will reopen on
May 14, 2015 from 9am to 4:30pm
. We apologize for any inconvenience.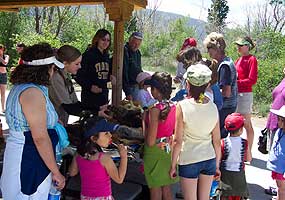 Junior Ranger Day is June 6!
9 am - 1 pm
Enjoy a morning full of junior ranger activities at the Visitor Center, Montville Nature Trail and Dunes Play Area. Kids of all ages can participate in a series of activities to earn frisbees, t-shirts and other fun items. This event is sponsored by the Friends of the Dunes. Plan to reserve camping ahead and arrive early! Camping, lodging, and parking will fill quickly in and near the park. This is always one of the busiest weekends of the year at Great Sand Dunes.

Find us on Facebook for news about the natural world of the park, tips for visiting, the newest photos of each season and wildlife, visitor posts, interactive visitor questions with rangers, and more!