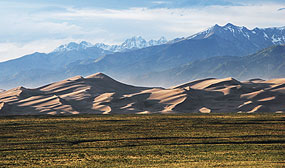 NPS/Fred Bunch
How were the Great Sand Dunes formed?
The story of how the Great Sand Dunes were formed is continually evolving, as new research discoveries occur each year. Below is a basic summary of what most geologists currently understand to be the broad series of events that took place in the formation of these massive dunes. A detailed scientific paper with the latest research, published in 2007, is available as a .pdf file: On the Age and Origin of the Great Sand Dunes, Colorado.
You may also learn about geological components of the Great Sand Dunes system, hydrology of Great Sand Dunes, and the variety of dune types in the park.
Basic Geological Story
Through the breaking apart and movement (rifting) of large surface plates on Earth's surface, the Sangre de Cristo Mountains were uplifted in the rotation of a large plate. Fossils from the bottom of an ancient sea are now preserved in high layers of rock in the Sangre de Cristos. The San Juan Mountains were created through extended and dramatic volcanic activity. With these two mountain ranges in place, the San Luis Valley was born, covering an area roughly the size of the state of Connecticut.
Sediments from both mountain ranges filled the deep chasm of the valley, along with water from mountain streams and rivers.