Loading the player...

Before Your Field Trip

Teachers and students -- get amped about your upcoming field trip to Great Sand Dunes! Come prepared, be safe, and get a sneak peak at some of the park's highlights.

Duration:

4 minutes, 15 seconds

Credit / Author:

NPS

Date created:

2011-01-12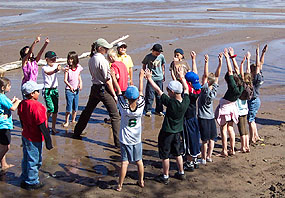 NPS Photo
There are countless possibilities for study at the Great Sand Dunes. Themes surrounding geology, ecology, and history are the most commonly explored. However, a creative teacher can turn the park into an outstanding classroom for civics, mathematics, engineering, creative writing, art or any number of topics.
You may search for lesson plans from our curriculum materials to organize a self-guided trip or arrange a ranger-guided program.
Consult the field trip guidelines for chaperones and teachers.
Ranger-Guided Programs
Great Sand Dunes is no longer accepting requests for ranger-guided education programs in fall 2013. We have reached our staff's capacity for this season.
Make arrangements in advance (at least 2 weeks in advance during the busy spring season especially).
Ranger-guided programs are only offered Monday through Thursday between 9 a.m. and 1 p.m. and are subject to ranger availability.
Call 719-378-6341 or send an email if you would like to schedule a ranger-guided program.
Educational Entrance Fee Waivers
Groups with an accredited school that are visiting the park for primarily educational purposes may also apply for an entrance fee waiver. You must include formal educational content during your field trip in order to qualify. Download and fill out the Educational Entrance Fee Waiver Form (.pdf file, 78KB). Form must be received at least two weeks prior to your visit. Complete the form and fax to 719-378-6310 or mail to: Fee Supervisor, Great Sand Dunes NPP, 11500 Hwy. 150, Mosca, CO 81146.
Questions about fee waivers may be directed to: Fee Supervisor, (719) 378-6352, or send an email.
Transportation Funds
Accredited schools from the local San Luis Valley coming to the Great Sand Dunes for primarily educational purposes are eligible to apply for transportation funds through the Environmental and Conservation Education Council.
Wheels to the Field funds can be used to reimburse mileage and driver expenses for field trips that meet the criteria listed on the application form.