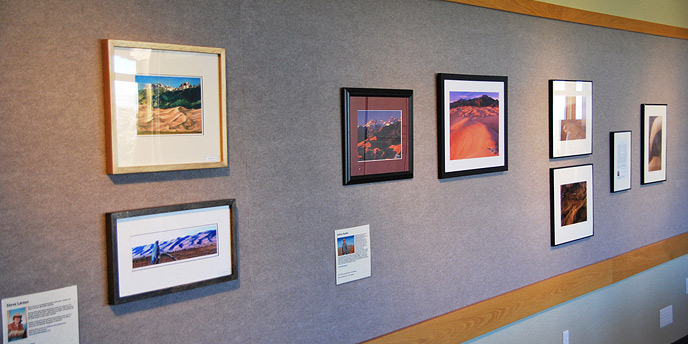 Visitor Center Fine Art Exhibit Space
With over 250,000 park visitors annually, many of whom come to the Visitor Center,exhibiting here provides significant exposure for an artist's work.The National Park Service's goal is to use this space to engage a wide variety of artists in sharing their unique, creative visions of the park and preserve, so that all visitors may be enriched by different creative perspectives on the park and its resources.The Visitor Center exhibit space is primarily devoted to fine art painting, mixed media, and photography specifically related to natural and cultural resources of the park and preserve.Its purpose is to complement the other more literal, science-oriented exhibits with interpretive views of park resources by a variety of people and media. See full description and guidelines for exhibiting your work in the Great Sand Dunes Visitor Center (pdf file).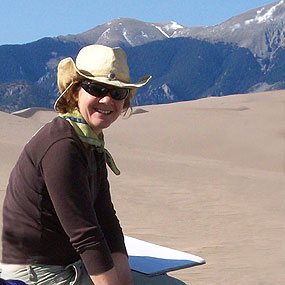 NPS/Patrick Myers
Artist Workshops
While there are no artist residencies planned for 2016, artists may apply to lead a free workshop in their medium for park visitors. This is an opportunity to share your work and techniques with an immediate audience in the park, and receive exposure of your artwork through a press release and appearance on the park website and social media. These workshops will help the public connect to Great Sand Dunes through the eyes of a variety of artists during the National Park Service's centennial anniversary in 2016. Send an email or call 719-378-6343 to inquire about leading a workshop.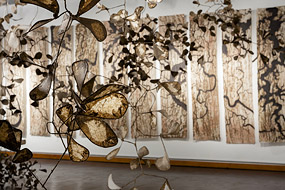 Megan Singleton
Megan Singleton's residency was in October 2014. She submitted a complex proposal to create original fine art paper using invasive and native plant materials, painted and sculpted with imagery related to the natural hydrological system of the dunes (creeks and wetlands). During her residency she led papermaking and bookbinding workshops using plant materials, highlighting both native species and the problem of invasive species in national parks.
View the press release about Megan's residency and public programs (pdf file).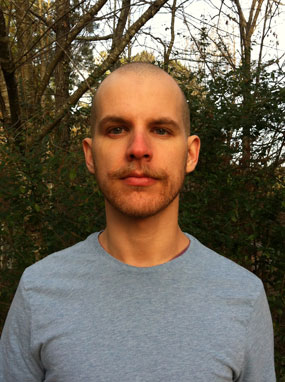 Courtesy Zach Tipton
Mister Zach (Zach Tipton) is the first singer songwriter to be selected for an artist residency at Great Sand Dunes. The first song inspired by his experience of his winter 2013 residency is a stark, mournful tune titled "Incomplete Isolation". Watch the song with accompanying video footage on YouTube.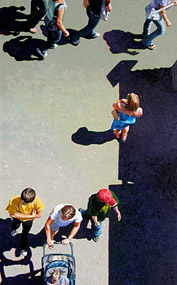 Randy Pijoan
Randy Pijoan was an artist in residence in May 2013. Randy's theme was "In Life and In Death," capturing cycles in the natural world that mirror aspects of the human experience. The artist created and operates Venturo Open Press, a non-profit facility to encourage disadvantaged youth in creating fine art prints. During his residency, he brought an fine art printing press to the Visitor Center, demonstrating the process of printmaking. He also conducted two painting workshops.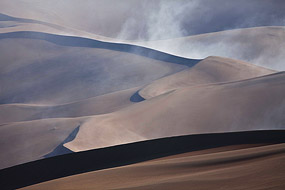 Robert Dash
Robert Dash was an artist in residence in 2012. He has posted some photos from his residency on his website, robertdashphotography.com .

Robert presented a full moon photography workshop as well as an evening presentation of his work at the park amphitheater.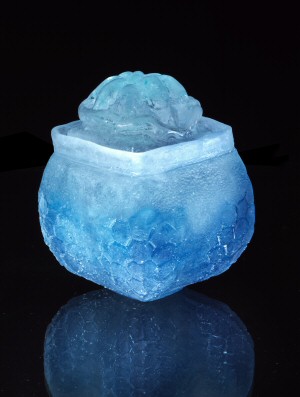 Courtesy Ranna McNeil
Ranna McNeil was an artist in residence in 2012. Her dreamlike abstractions are made with a variety of materials including crystal, glass, and encaustic wax. During her residency she shared her process of creating in glass, crystal, and painting at the Visitor Center. She has created a number of pieces related to the dunes, and is currently working to complete a complex cast crystal sculpture that she carved in wax during her residency.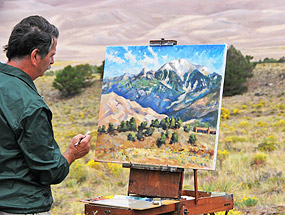 NPS/Patrick Myers
Painter Joseph Palmerio was Artist in Residence in September 2011. Palmerio relates: "Although I am a representational painter, I am grabbed initially by a landscape's abstract shapes...this allows for a strong composition on which to present the subtle colors of nature."
During his residency, the artist gave two plein air oil painting demonstrations, as well as a number of informal demonstrations of watercolor painting in the Visitor Center.

Photographer Jim Sidinger was an Artist in Residence in fall 2011. Jim's photography is about communication through images which use simple lines and forms in symmetric (occasionally asymmetric) relationships. He feels that the viewer's experiences are improved and intensified when there is a minimal amount of incidental clutter to distract from the essence of what he is trying to communicate.
Jim Sidinger led a photography workshop during his residency.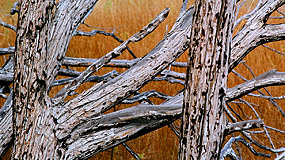 Painter and photographer Jean Sidinger was an Artist in Residence during fall 2011. Jean's work focuses on abstract shapes and patterns found in the natural world. During her residency, she led a free workshop on "The Art of Seeing".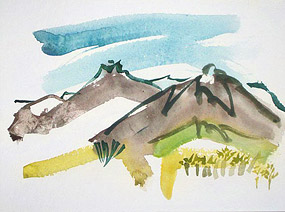 Courtesy Sheigla Hartman
Painter Sheigla Hartman was Artist in Residence in April 2011. She is known nationally for her landscape paintings created with sweeping, abstract forms.
Hartman led a sketching workshop during her residency.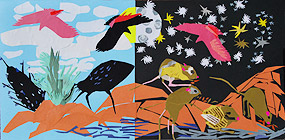 NPS/Patrick Myers
Angela Mestas was Artist in Residence in October 2010. Mestas combines outdoor leadership experiences in San Luis Valley's national wildlife refuges with an original vision for seeing and representing wildlife in fresh new ways. "I have an incredibly strong relationship with the land here," says Mestas. "That familiarity with color, aridity, and life will help support art that shows the character that defines the dunes. I want to create artwork that is sensitive to the diversity of the ecosystem in hopes of generating an emotional and intellectual effect that stimulates visually...not only asking questions about ecological relationships but defining them." She led a sketching workshop as well as classroom programs in a local school during her residency.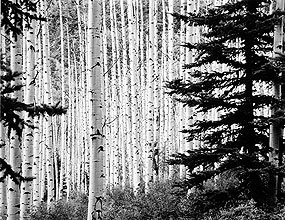 Courtesy Allan McConnell
Allan McConnell and his wife Frances Dodd (below) were artists in residence together April 16-30, 2010. "The responsibility of black and white photographic artist is to present the image in a new and unique manner," says McConnell. "Choosing compositions, amplifying, retarding, enhancing, and abstracting are all part of the photographic art."
McConnell led a photography workshop during his residency.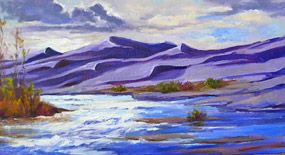 Courtesy Frances Dodd
Painter Frances Dodd was in residence April 2010 along with her husband Allan McConnell (above). Dodd says of her work, "I've learned to be less concerned about the outcome of the painting and now look for the discovery that might take place. I love the process of the painting, the joy of pushing paint or pastel around, developing lush color relationships and dramatic values. What initially attracts me to a subject are its shapes and values. I try to get beyond painting 'things' and concentrate on 'painting the painting'."
During her residency, Dodd led a painting workshop.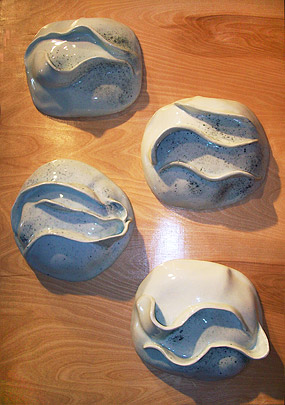 Potter and Muralist Sally Gierke was Artist in Residence in fall 2009. She led a clay workshop at the park and did programs at a local school.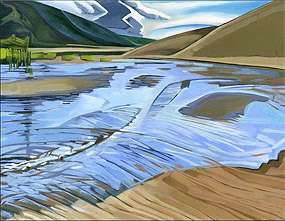 In September 2009, Kathy Hodge was the first Artist in Residence at Great Sand Dunes National Park and Preserve. She led two sketching workshops during her residency.