Park Campground and Medano Pass Road Closed for Winter

The Pinon Flats Campground and Medano Pass Primitive Road are closed for the winter season. More »
Ambassadors for Wilderness
Go wild this summer at the Great Sand Dunes! Learn skills, develop leadership, have a blast, and be a part of the Great Sand Dunes family for life.
Watch our new Ambassadors for Wilderness video on YouTube! (9 minutes, 2013)
2013 Ambassadors For Wilderness Applications
Apply Online (secure form administered by Google, no registration required)
Summer 2013 Trip Dates
Junior High School Session A: June 16-20

Junior High School Session B: June 23-27

High School Session A: July 7-13

High School Session B: July 17-23

Advanced Session (returnees only): August 6-10th
Eligibility
Junior High School Sessions: Must have completed 7 or 8th grade.

High School Sessions: Must have completed 9th, 10th, or 11th grade. Sorry, no seniors!

Advanced Session: Must have previously participated in an AFW session (JH or HS). No upper age limit.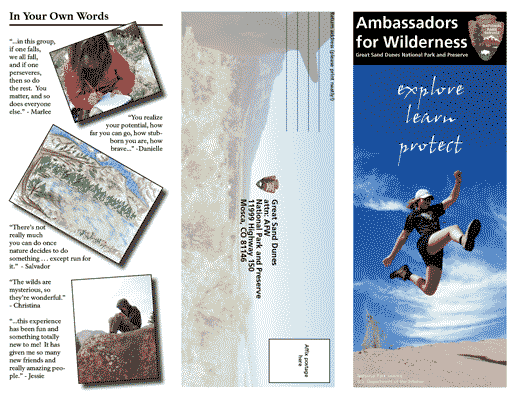 Helpful Documents
Email or phone the Education Specialist at 719-378-6344 for more information.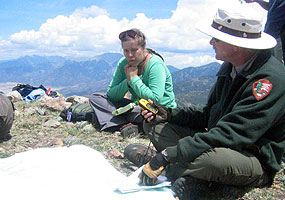 NPS Photo
National Park Service rangers will lead participants in activities surrounding the themes of outdoor skills, Leave No Trace, leadership, field science, and park management. The majority of session time will take place in remote areas of the Great Sand Dunes National Park and Preserve, including high alpine zones, forests, and remote stretches of the dunefield. When students return back to school, they will complete a project of their own design to educate others about their wilderness experience and about the resources of the Great Sand Dunes.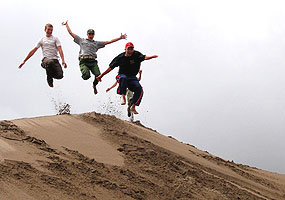 NPS Photo
The Ambassadors for Wilderness program charges no fees. Food, gear, and entrance fees are paid for by the program. The participant is responsible only for his or her own personal clothing and transportation to the park. Students going into grades 8 or 9 are eligible for the junior high school sessions, while students going into grades 10-12 may apply for high school sessions. Students who complete their summer session and the Ambassador project will receive take-home camping swag and volunteer service hours.
Did You Know?

The 750' dunes look small from the alpine summit of 13,297' Mt. Herard, part of Great Sand Dunes National Preserve. More...