Rendezvous Days and Powwow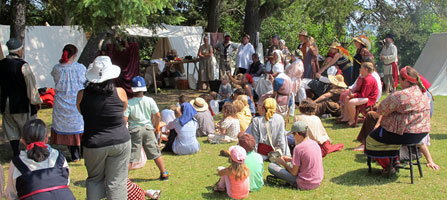 NPS All Beth Drost
About the Grand Rendezvous
The hustle and bustle of summer activity peaked with the North West Company Rendezvous held here at Grand Portage. This was the time when furs from wintering posts, which reached into Canada, were delivered down the historic Grand Portage.
The annual Rendezvous is still celebrated every year during the second weekend of August.

The event is held in conjunction with the Rendezvous Days Powwow, sponsored by the Grand Portage Band of Lake Superior Chippewa (Ojibwe).

The annual gathering is our biggest and most grand celebration of the year, a time when Grand Portage comes alive and reflects on its rich heritage.

Re-enactors from across the country and Canada gather to camp and challenge each other to games and skills from our historic past.

This is one event you do not want to miss. Music, dancing, craft demonstrations and hands-on workshops ensure an exciting weekend at Grand Portage National Monument!
Participant Information for Rendezvous Days and Powwow
This year's annual Rendezvous Days and Powwow is Friday-Sunday August 7-9, 2015.

The 2015 registration form (.pdf) will be available March 2015 as two links on this page: in the participant information below (text link: "2015 Rendezvous Days Registration Form" and "View 2015 Rendezvous Days Registration Form") on the right side below the top photo.

Please print, complete, and mail the registration form with your fee. Also, please review the 2014 Rendezvous Days Participants' Guide and 2014 Rendezvous Days Resources Protection Alert linked in the text and on the right side of this page.

The Participant's Guide and Resources Protection Alert will also be updated by March 2015.

Please Note: The Schedule of Events is typically finalized in July of the year. Once prepared, we will replace the 2014 schedule with the 2015 schedule.

View 2005-2013 Rendezvous Days and Powwow Schedules on our

archive

page.

We look forward to your return!
1. 2015 Rendezvous Days Registration Form 263 KB PDF
2. 2015 Rendezvous Days Participants' Guide 324 KB PDF
3. 2015 Rendezvous Days Resources Protection Alert 157 KB PDF
4. 2015 Rendezvous Days & Powwow Schedule 1,086 KB PDF