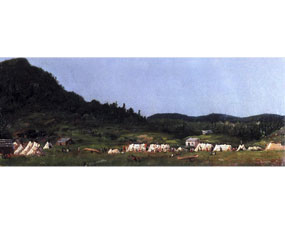 Courtesy of the St. Louis County Historical Society
By the 1760s, a summer rendezvous was already an old Indian tradition on Grand Portage Bay. As well as trade, activities included socializing, marriage, ceremonies, dancing and music. Perhaps 1,000 or more Native peoples (Ojibwe, Cree, and Assiniboine) gathered or visited the Bay during the summer. European fur traders, with the concurrence of Native tribes, located their posts at cultural cross-roads like Grand Portage and integrated the rendezvous into their cycle.
In 1742 a French missionary wrote that the Ojibwe chief at the summer rendezvous was, "very influential…a man of decision whose intrepidity produces an impression on the others." Roderick MacKenzie in 1785 noted on his arrival that Ojibwe people were, "incamped within our limits and…almost all their winter hunt in our possession."