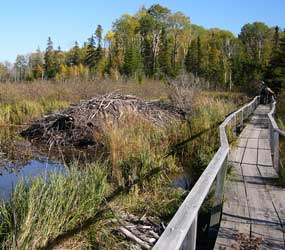 NPS Photo / David Cooper
The Grand Portage corridor has been the most recent focus of archeological investigations. Using data collected by David Thompson, former Nor'wester and surveyor for the international boundary commission, archeologists Douglas Birk and David Cooper traced the 1821 portage using GIS technology. Thompson's 1821 portage data, it turned out, compared closely with the present portage configuration.

From 2000 through 2003 cultural features were investigated by archeological teams including resting places (posés in French) referred to in fur trade journals. Cultural features have been located along the portage such as watering holes called "the Fountain," "the Parting Trees," perhaps the last glimpse voyageurs had of Lake Superior and home while weighed down by their 180 pound burdens, and a place called "the Meadow" of "rich grass fields."