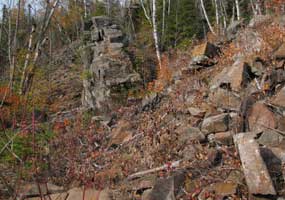 NPS Photo / Mike Plummer-Steen
Geology: Rugged hills and boggy lowlands, shear rock cliffs, shallow incised bays and Lake Superior, all come together in the highlands of Grand Portage. This extraordinary and impressive landscape was created by the different weathering rates of two types of rocks produced during Precambrian time. For nearly one billion years, stream erosion and glacial scour have removed much more of the soft than the hard rock leaving a modern relief of more than 600 feet.

Ridges have formed on a coarse, dark, resistant rock known as diabase (di′-a-base); lowlands and bays were produced in softer rocks of graywacke (gray′-wacke) sandstone and shale. The Grand Portage and Mt. Rose trails cross the highland regions which provide panoramic views of one of lowland areas, Grand Portage Bay.