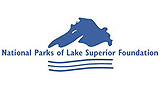 NPSLF Logo
Partner Contributions
National Parks of Lake Superior Foundation
This friends group is a privately supported effort to fund special projects in the five U.S. national park units located on Lake Superior. The five parks are Apostle Islands National Lakeshore, Grand Portage National Monument, Isle Royale National Park, Keweenaw National Historical Park, and Pictured Rocks National Lakeshore.
View the National Parks of Lake Superior Information Card (253 Kb PDF)
Donations to the National Parks of Lake Superior Foundation assist parks with worthy projects over and above funding for basic park operations. Projects include preservation of historic structures and lighthouses, improved visitor services, and enhanced environmental education programs.