Throughout the summer season, Memorial Day through Labor Day, there are a variety of ranger-led programs offered daily. Stop at the visitor center to find out the program schedule for the day of your visit.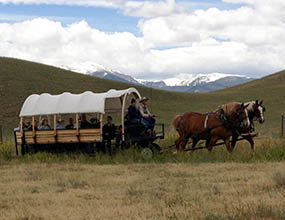 WAGON TOUR - WEDNESDAY ONLY
Wednesday afternoons at 1:00, 1:30, 2:00, 2:30 and 3:00 from July 1st through September 2nd you can enjoy a ranger led horse drawn wagon tour. The open range cattle era lasted only a short time in American history. Yet, people continue to be fascinated with it still today. Find out what it is about that time period that still has people so engaged while taking a ride out into the ranch. There will be no wagon rides on August 19th as the teamsters prepare for the Haying with Horses event on August 20th.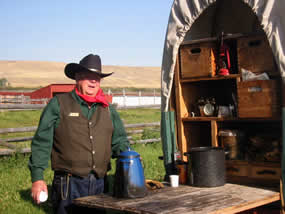 CHUCKWAGON TALK
The open range cattle era was a time of trail drives and round-ups. Take a minute to sit down at the chuckwagon and hear what life was like living out on the open range for months at a time and how the chuckwagon became home away from home for those hardworking cowboys.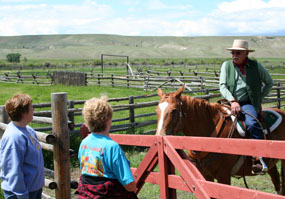 COWBOY TALK
One of the most recognized images from the open range cattle era is the cowboy. Over the years, Hollywood, television, and books glamourized cowboy life. You can join a ranger and learn about the real cowboy and what his job entailed during the days of the open range.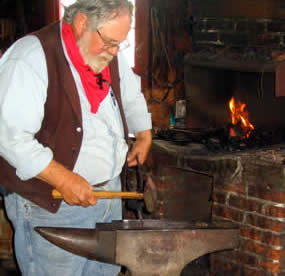 BLACKSMITH TALK
The blacksmith shop was the hub of activity during the haying season as horses were shod and machinery repaired. Learn about ironwork throughout history and the importance of the blacksmith to ranchers during the open range cattle era.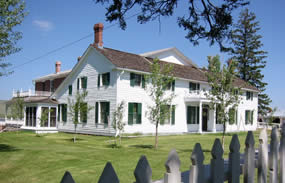 MAIN RANCH HOUSE TOUR
Johnny Grant originally built the ranch house in 1862. It was a trading post downstairs and a residence upstairs. In 1866 he sold the ranch to Conrad Kohrs who became known as the "Cattle King" in Montana. In 1890 Kohrs built a brick addition onto the home adding a formal dining room, large kitchen, a second bathroom, and many bedrooms. Augusta Kohrs acquired the elegant furnishing seen throughout the house over several decades.
Tours of the main ranch house are offered daily. Stop by the Visitor Center for tour times. You must sign up for house tours at the visitor center. There is no fee for tour tickets. For preservation reasons, tours are limited to 12 people. Tours do fill up quickly in the summer months.