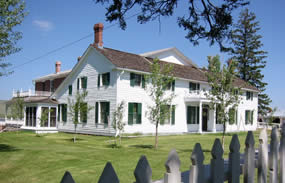 MAIN RANCH HOUSE TOUR
Johnny Grant originally built the ranch house in 1862. It was a trading post downstairs and a residence upstairs. In 1866 he sold the ranch to Conrad Kohrs who became known as the "Cattle King" in Montana. In 1890 Kohrs built a brick addition onto the home adding a formal dining room, large kitchen, a second bathroom, and many bedrooms. Augusta Kohrs acquired the elegant furnishing seen throughout the house over several decades.
Tours of the main ranch house are offered daily. Stop by the Visitor Center for tour times. You must sign up for house tours at the visitor center. There is no fee for tour tickets. For preservation reasons, tours are limited to 12 people. Tours do fill up quickly in the summer months.