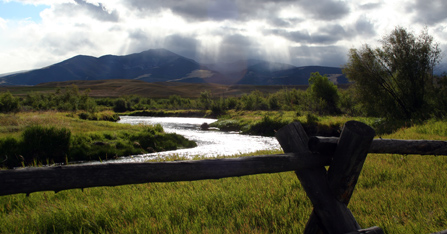 "It was a beautiful stream, the water clear and sparkling and alive with the finest trout, and the same was true of every spring we crossed. The valley was full of antelope and many head of fat cattle belonging to the mountaineers who lived there."

Conrad Kohrs on Deer Lodge Valley upon arriving in 1862
This quote describes how Conrad Kohrs viewed the valley in 1862. Since that time, the valley has experienced many challenges including mining, timber harvest, development of towns and cities, and the pinnacle and gradual demise of the open range cattle era. However, Conrad Kohrs description is not a far cry from how one may describe the area today. Ranching still plays a large part in the local economy, wildlife are abundant, and even the fisheries are making a gradual comeback after years of pollution from mining practices.
Here at Grant-Kohrs Ranch, we try to maintain this historic landscape while providing recreation, protecting native flora and fauna, and controlling the breeding and health of the livestock.


Learn about the Clark Fork River clean-up

links to Superfund page Read More

Applying for a Research Permit

Learn more about the conditions and application process for a research permit