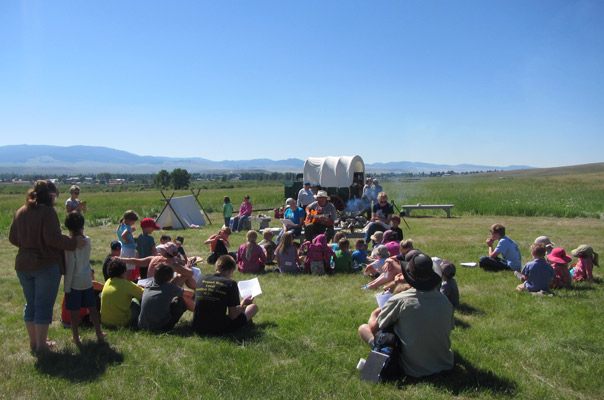 Summer Explorers
Grant-Kohrs Ranch 2014 summer youth programs offer kids great opportunities to learn about the natural and cultural world through fun hands on activities.
Join the FREE fun every Tuesday from June 24th - August 12th.
Please register at least 1 week before the program.
All about Birds – June 24th 9:30 am - 12:30 pm
Did you know Hummingbirds weigh less than a penny? Did you know a Bald Eagle can kill a young deer and fly away with it? Come discover the fascinating world of our feathered friends. Fun for kids of all ages.
Ancient Artists - July 1st 1 pm - 4 pm
Do you like to create art? Native Americans have been artists for centuries. Make paint from rocks and create art like they did. Fun for kids of all ages who like to be creative.
Don't BUG me – July 8th 9:30 am - 12:30 pm
Where does a spider hang out? (at its favorite website) Come explore the world of creepy crawlers. From grasshoppers to ladybugs, discover fascinating facts about these creatures. Fun for kids of all ages.
Starry, Starry Day – July 15th 1 pm - 4 pm
Can you find your way around the night sky? Discover the stars in this creative program that brings the night to life during the day. Learn about constellations, nocturnal animals and much more in this unique program. For kids of all ages who love to gaze at the stars.
Bee Buzzin' – July 22nd 9:30 am - 12:30 pm
If it's one insect that kids know a little bit about... it's bees. But most kids only know about the part that hurts! Honey bees are fascinating creatures who play a critical role in our food chain. Come discover the good side of bees. Fun for kids ages 4 and up.
Wanna be a Cowboy? – July 29th 1 pm - 4 pm
Do you have what it takes to be a cowboy? Discover what gear cowboys need, learn about branding, develop your roping skills and much more during this fun-filled program. Fun for all kids of all ages.
Tree-mendous Trees – August 5th 9:30 am - 12:30 pm
Explore a variety of different types of trees in our area. How do they grow? How old are they? How do leaves differ from one another and why? Why are we so dependent upon trees? Fun for kids ages 4 and up who like to look for things in the woods.
Busy Beavers – August 12th 1 pm - 4 pm
There is more to beavers than being one of the world's largest rodents. Come discover the wonders of these semi-aquatic mammals. Come dressed to get wet! Fun for kids 5 and up who like water and creatures!

Call 406-846-2070 ext. 226 for more information or to register.
*Participants must register at least 1 week in advance*