Trash Free Park

Great Falls Park is now a trash free park. Trash cans have been removed. Please come prepared to carry your trash out with you. More »
River Safety

Learn more about how to stay safe around the Potomac. The Potomac has dangerous currents and going into the river is not permitted. Swimming and wading could cost you your life. Stay safe. Stay out of the river. More »
No Water in Visitor Center Courtyard

Due to plumbing problems, there are no bathrooms available in the Visitor Center (VC) courtyard. There are portajohns behind the Snackbar for public use. *Please note: Restrooms near the lower parking lot are fully operational.
Weekend and Holiday Delays for Entry

Saturdays, Sundays, and holidays when there is a good weather forecast, expect delays of up to an hour from Noon to 4pm when entering the park.
Bookstore
The Great Falls Park bookstore is open seven days a week, from 10 a.m. until 4 p.m., with extended hours during the spring, summer, and early fall months. Contact the park at 703-285-2965 for current hours.
Click here to visit the bookstore's website.


Did You Know?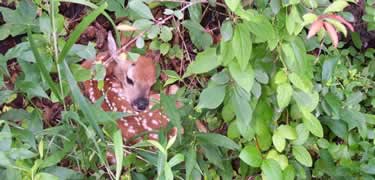 If you find a fawn in Great Falls Park, it's not abandoned and should be left where it was found. The doe leaves her fawn while she goes to graze, and the fawn will not move until the mother comes back.