Trash Free Park

Great Falls Park is now a trash free park. Trash cans have been removed. Please come prepared to carry your trash out with you. More »
River Safety

Learn more about how to stay safe around the Potomac. The Potomac has dangerous currents and going into the river is not permitted. Swimming and wading could cost you your life. Stay safe. Stay out of the river. More »
No Water in Visitor Center Courtyard

Due to plumbing problems, there are no bathrooms available in the Visitor Center (VC) courtyard. There are portajohns behind the Snackbar for public use. *Please note: Restrooms near the lower parking lot are fully operational.
Weekend and Holiday Delays for Entry

Saturdays, Sundays, and holidays when there is a good weather forecast, expect delays of up to an hour from Noon to 4pm when entering the park.
Visitor Centers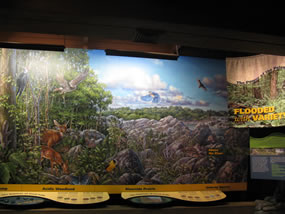 National Park Service
The Visitor Center is open daily from 10:00 a.m. until 4:00 p.m.
A ten minute video presentation on the history of Great Falls Park is shown throughout the day. Check with the Visitor Center desk for schedules, or to request a presentation.
Stop by the Visitor Center desk for trail maps, the self-guided tour of the Patowmack Canal, local information, pamplets on nearby parks, and information on recreational activities. Volunteers and Rangers will be on hand to answer questions.
Explore a wide array of exhibits featuring the Patowmack Canal, geology, recreation, and the flora and fauna of Great Falls. An interactive children's room offers puzzles, coloring activities, and a hands-on exploration table.
Restrooms and a concession stand are located on the lower level. The concession stand is open seasonally from March to mid-November.
The park's bookstore is open during Visitor Center hours.


Did You Know?

The round holes you see in the rocks along the River Trail were carved by the Potomac. Some of these potholes are large enough to stand in and can take over 500 years to form.