Trash Free Park

Great Falls Park is now a trash free park. Trash cans have been removed. Please come prepared to carry your trash out with you. More »
River Safety

Learn more about how to stay safe around the Potomac. The Potomac has dangerous currents and going into the river is not permitted. Swimming and wading could cost you your life. Stay safe. Stay out of the river. More »
No Water in Visitor Center Courtyard

Due to plumbing problems, there are no bathrooms available in the Visitor Center (VC) courtyard. There are portajohns behind the Snackbar for public use. *Please note: Restrooms near the lower parking lot are fully operational.
Weekend and Holiday Delays for Entry

Saturdays, Sundays, and holidays when there is a good weather forecast, expect delays of up to an hour from Noon to 4pm when entering the park.
Things To Know Before You Come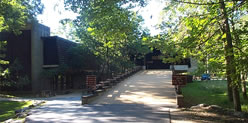 Great Falls Park is a unique destination in the Washington D.C. area. Here, you will find information to help you plan your visit to the park.
Some things to keep in mind while planning your trip:
The busiest times are on nice weekend afternoons. There is usually a line to enter the park on those days.
Great Falls is open from 7 a.m. until dark daily.
Dogs and other pets are welcome, but must be on a six foot leash and under physical control at all times. Remember to clean up after your pet.
Ranger programs are offered on most days. Check with the Visitor Center for details.
Alcohol is not permitted in the park.
Swimming and wading are not allowed in the park.
Picnic tables and grills are available on a first come, first serve basis. No reservations are needed for picnics.
There is an entrance fee to enter the park. More information.
The snack bar is open seasonally. For current hours, click here. There are no vending machines in the park.
One wheelchair is available for loan on a first-come, first-serve basis at the Visitor Center. There is no cost to use the wheelchair.


Did You Know?

Those big black birds you see flying above Great Falls Park are usually vultures. Turkey vultures, like the one in the photo, have red heads. The smaller black vulture's white wingtips are easily seen in flight.